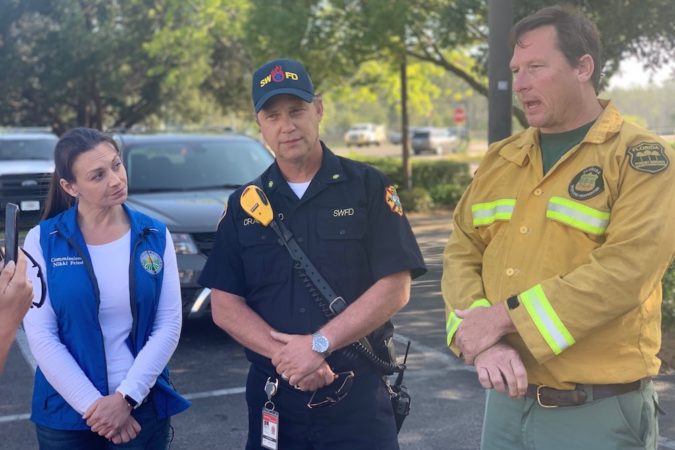 The latest update on Santa Rosa wildfire from Santa Rosa County Emergency Management :
Evening update on the Five Mile Swamp Fire:
– The fire is estimated to be 35% contained.
– The fire is estimated to cover 2,000 acres.
– Santa Rosa County in conjunction with the Florida Forest Service is still assessing the number of damaged structures and that information will be released as it is confirmed.
Evacuations/Re-Entry
– Closed – Everything on Garcon Point Road east to the Blackwater Bay from I-10 south to Mary Kitchens Road remains closed including Garcon Point Road. THERE IS NO ACCESS TO THIS AREA (see map).
– Level 1 – Everything south of Mary Kitchens Road on Avalon and Garcon Point Road, and on the west side of Avalon is at a Level 1 evacuation, meaning residents can return to their homes but need to stay aware. Level 1 also extends up to Da Lisa Road.
– Level 2 – Indian Bayou to Mary Kitchens Road and the houses along Mary Kitchens Road are a Level 2 evacuation and may return home but must be prepared to leave at a moment's notice.
Citizen Information Center
The Santa Rosa County Citizen Information Center is open. Those who have evacuated or who have questions may call 850-983-INFO (4636).
Sheltering
The shelter at Milton Community Center is closed. For sheltering needs, call 850-983-INFO (4636).
Information on residences in the affected areas
Preliminary reports are 13 residential structures, including mobile and modular homes, single family residential homes, and guest houses have been affected. This does not include barns, sheds or other ancillary structures.
Housing for livestock
Evacuated residents who need a place to house livestock may utilize the June Ates Arena/Agri-plex, 8604 Bobby Brown Rd. in Milton. Call Kyle Holley (850) 390-9808 for instructions.
Florida Forest Service update
– Florida Forest Service personnel and apparatus are still arriving to assist with the firefighting efforts. Tonight's operation is to hold, control and monitor existing fire containment lines and, where safe, improve control lines where needed.
– As the front moves in overnight, winds will shift to the south/southwest at 13-18 mph, gusting to 25 mph. Relative humidity is expected to increase to 40-45%, with a 40% chance of precipitation in the afternoon.
– In light of these conditions, officials with the Blackwater Forestry Center are continuing to withhold burn authorizations in Escambia, Santa Rosa and Okaloosa counties.
– Florida Forest Service Wildfire Dashboard https://fdacs.maps.arcgis.com/apps/opsdashboard/index.html…
Gulf Power outage map
Gulf Power is working as quickly as possible to restore power. Some power poles have been burned and will take longer to replace. Check the Gulf Power Outage Map for updates. https://map.gulfpower.com/
Video/Photos: Video and photos from the Five Mile Swamp and Mussett Bayou wildfires can be found here as well as on Twitter and on Facebook.
---
Escambia County Wildfire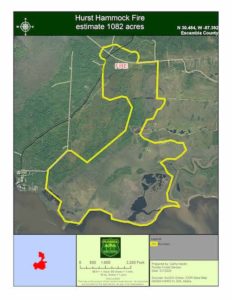 Four Florida Forest Service bulldozers and two helicopters are actively working the Hurst Hammock Fire. The fire has gotten more active, but remains in the marsh and is not currently a threat. Escambia County Fire Rescue has several additional units on scene standing by along with the Sheriff's Office. The fire size is still 1,000 acres and 40% contained.
Walton County
Mussett Bayou Fire: Florida Forest Service firefighters continue battling a wildfire in Walton County. As of 9:00 PM EST, the fire is estimated at 575 acres and is 70 percent contained. The Florida Forest Service has deployed 15 tractor plow units and 2 engines, and is also working with local fire departments; 2 additional dozer strike teams have also been deployed. Approximately 500 residents had been evacuated. Evacuations have been lifted and the Walton County Sheriff's Office is escorting homeowners into the affected area. The State of Florida has requested FEMA FMAG assistance.
---
Gilley Gets Her Team
Escambia County Administrator Janice Gilley added three more senior leaders to her administration:
Clara Long — Director of Neighborhood & Human Services
Chips Kirschenfeld — Deputy County Administrator
Wes Moreno — Deputy County Administrator
Clara Long, who has served as interim director of Neighborhood & Human Services since August 2019, has been given the job. Long had served as the Community Redevelopment Agency division manager from 2013 to 2019. Long began her career with Escambia County in April 2001 and began working in the CRA Division in 2003. She has held many positions in the agency including office administrative assistant, CRA urban planner II, development program manager, enterprise zone coordinator/redevelopment specialist, and CRA division manager.
Chips Kirschenfeld, director of Natural Resources Management, was appointed deputy county administrator and will provide much needed government experience and institutional knowledge to newly formed Community and Administrative branch, which is headed by Gilley's assistant county administrator–
Debbie Bowers.
Kirschenfeld began his career with Escambia County in 2001 as a senior scientist. In 2008, he became division manager of the Water Quality and Land Management division and established a new water quality laboratory to monitor area surface waters. Kirschenfeld was named director of Natural Resources Management in 2016 and was assigned additional duties as interim assistant county administrator in 2019 until Bowers joined Team Gilley last month.
Wes Moreno, director of Public Works, was appointed deputy county administrator on Thursday. Like Kirschenfeld, he will provide expertise to other branch created by Gilley, Infrastructure and Public Safety. The branch is headed by the other recently hired assistant county administrator, Wesley Hall, who was the deputy administrator for Gadsden County – a rural county of 45,660 people west of Tallahassee.
Moreno began his career with Escambia County in 1987 as a maintenance worker with the Public Works department. Moreno has held several positions including equipment operator, road correction officer, engineering tech, chief of construction management, deputy bureau chief of public works and deputy director of Public Works.
---
T.T. Wentworth Museum to Reopen
The T.T. Wentworth, Jr. Florida State Museum and the Pensacola Museum of Art are preparing to slowly open back up and welcome visitors. Beginning Saturday May 16, 2020, visitors will be able to enjoy the museums once again.
In the initial phase of re-opening, the museums will only be open on Saturdays and Wednesdays from 10 a.m. to 4 p.m. These staggered days will allow time for employees to fully sanitize the museums between open days.
The museums will be operating at 25% capacity at both locations. In order to adhere to social distancing guidelines, the organization will only offer online tickets for $5.00 and will have staff situated on each floor to remind visitors of safety protocols. These $5 tickets will allow visitors to explore both museums and are good for only one day.
Visitors will need to register for a timed ticket prior to visiting the museums to ensure entrance capacity is maintained. Each visitor will be offered free disposable masks at the entrances of the museums and hand sanitizer stations will be placed throughout both locations.
The UWF Historic Trust is developing a full reopening plan per the suggestions of the American Alliance of Museums which states, "a gradual approach [which] allows your museum to prioritize health and safety while taking progressive steps to restore regular operations."
UWF Historic Trust Executive Director, Robert Overton, hopes this phased opening schedule will be beneficial for both the community and the museums. "Like so many organizations in our area, we rely on community support to continue operations. We hope this phased re-opening will allow our community to revisit their local museums and provide much needed support to our museums."
For more information about the UWF Historic Trust or to purchase tickets, visit historicpensacola.org.