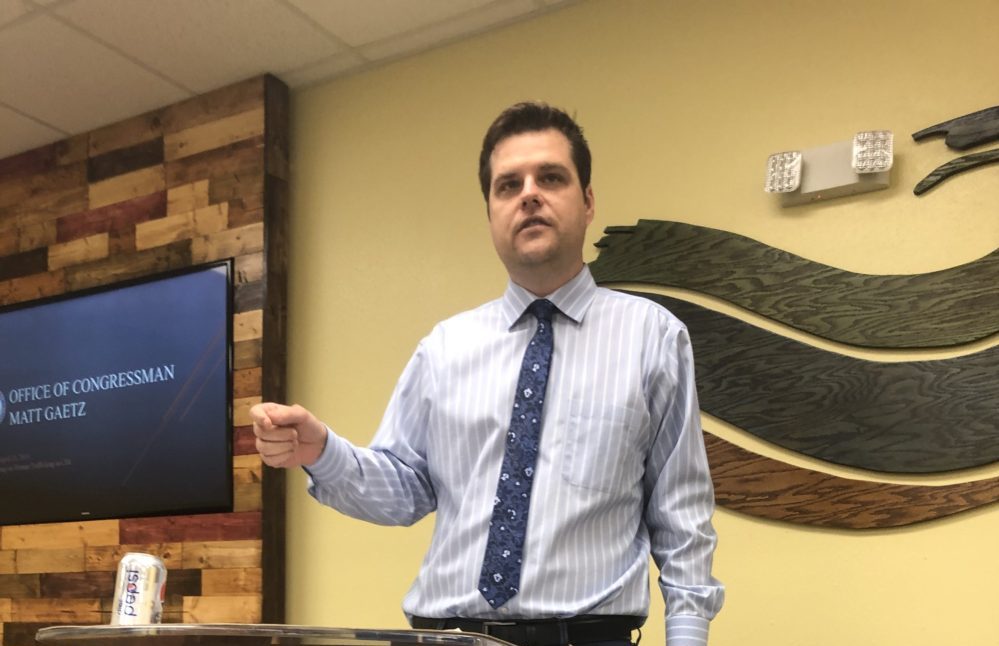 This morning Congressman Matt Gaetz called together the top local, state and federal law enforcement officials, including Escambia County David Morgan, Walton County Sheriff Mike Atkinson and U.S. Attorney Larry Keefe, and several religious leaders to discuss the increase of illicit massage parlors in Northwest Florida and how to shut the down.
"Rolling from my house in Fort Walton to my office in Pensacola, I pass more than a dozen places that are offering Asian massage, with hours of operation that exceed well into the p.m. hours and have blacked out front storefronts," said Gaetz. "There may be some of those that are operating legitimate massage, but it seems to be a real increase in the amount of that activity that's occurring."
He said that while serving as Criminal Justice Chairman in the Florida House, he heard testimony and saw data that showed "a nexus between these establishments and the movement of humans against their will."
The latest statistics for 2018 show that 86 percent of the human trafficking are female. Gaetz said, "I thought it was pretty noteworthy that the largest group are between the ages nine and 17. That was really striking to me. A lot of those younger folks that are trafficked."
In the materials handed out, the congressman pointed out there are an estimated 9,000 illicit massage parlors in the U.S.–more than Starbucks' 8,222 locations.
The key indicators illegal activity is happening at massage parlors are:
Service prices significantly below market-level.
Women asking for large tip.
Women servicing customers excessive hours or being "on call."
Serves primarily male customers
Locked front door, customers only enter if they buzz in or enter through side or back doors.
Windows are covered or blacked out.
Regular rotation of women, new women coming every few weeks.
Advertisements on commercial sex website.
In 2013, State Rep. Gaetz wrote legislation (2013 HB 7005), which passed, that he said "gave law enforcement supercharged abilities to be able to go into a massage establishment and demand the presentation of ID. In the absence of that ID, it gives you an ability to declare them a nuisance."
The law also states the parlors can't advertise to induce customers in sexual misconduct, operate between hours of midnight and 5 a.m. and can't use the establishment to used as a principal domicile.
In February, the Martin County Sheriff's Office led a multi-agency investigation that led to several massage parlors being shutdown and numerous arrests, including New England Patriots owner Robert Kraft.
"They caught the folks down in Martin County through the utilization of a massage establishment as a place of domicile," said Gaetz. "What we've seen is that they know about the hours of operation limitation, and so they will try to stay out of that blacked out period, but one thing you can't hide if you're track trafficking people is that they live there."
He continued, "What helped in Martin County is they continue to see folks taking out garbage, that was residential garbage. There was evidence of people living there, and so that's a way you can see people getting them now."
Gaetz encouraged the religious leaders to take advantage of the law. One of the extraordinary remedies is when any nuisance exists, the Attorney General, state attorney, city attorney, county attorney or any citizen of the county may sue in the name on the state to enjoin the nuisance.
The court can issue a permanent injunction and order court costs to be paid by the person establishing or maintaining the nuisance. Liens can be placed on all personal property found in the business.
"You can bring nuisance claims in court, which is I think a really good project for some of our nonprofits, some of our kind of the armies of passion that we have gathered to say, 'We have skin in the game," the congressman said.
"I mean, we're always talking in our faith chats about, how do you get kind of the broader congregation and wider the sense of the word, engaged and active?" said Gaetz. "This is a way to say, 'We're not going to put up with this garbage in our community.'"
Inweekly will have more on the meeting in its May 4 issue.