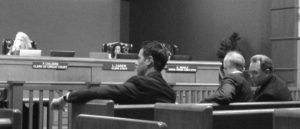 Wisdom prevailed at the Escambia County Board of County Commissioners meeting last night.
Rather than negotiate the percentages of how the Local Option Gas Tax revenues will be distribution with the city of Pensacola and Town of Century in the meeting, the commissioners voted unanimously to table the discussion to give city and county staff more time to review the transportation expenditures and develop a better formula –one that has a basis on the type of expenditures listed in the state statutes.
For the past 10 years, the city of Pensacola has received 18.22 percent of the revenues. However, Assistant County Administrator Amy Lovoy reviewed the city's CAFRs and determined the percentage for the next 10 years (2016-2026) should be 5.45 percent – dropping the city's share from $1.55 million to $463,600 annually.
City CFO Dick Barker argued that Lovoy's calculations missed some transportation expenditures, such as the city's $730,000 contribution towards mass transit.
Fortunately, this discussion isn't too time sensitive. The BCC has until July 2016 to send the allocation formula to the Florida Department of Revenue. However, the city council's special meeting on the FY 2016 budget could be more lively than usual.
We will have more on this next week.