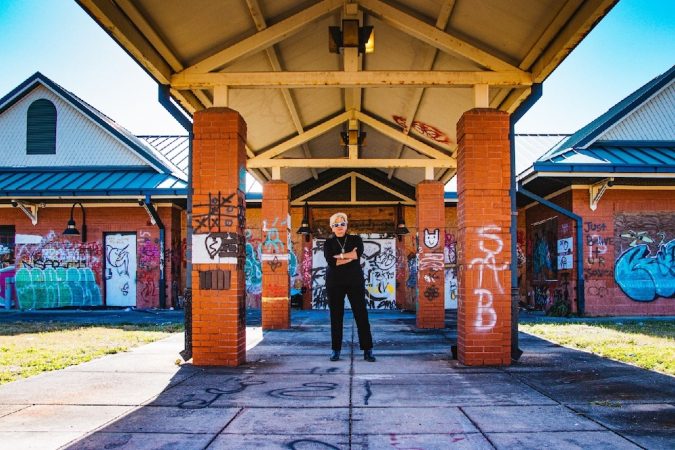 Monument to Women Veterans announces a groundbreaking event for a museum and monument to women veterans, and the announcement of a
state-of-the-art national training center in construction for veterans. The museum and monument site is being developed to honor all women, past, present, and future, who served in the United States military and to provide unmet critical resources for female veteran care.
Founded in 2011 by Navy Veteran Michelle Caldwell, Monument to Women Veterans has been granted a 30-year lease (with extension options) by the City of Pensacola to restore and remodel the Amtrak depot on Heinberg Street. The location will provide space for a museum and the first monument dedicated to the 25% of active-duty military women plus 2.8 million women veterans who have honorably served in combat since 1948.
Renowned sculptor Elizabeth MacQueen will design the 35-foot monument that will feature flames and laser beams over a stainless-steel elliptical band of flowing water. The monument will be surrounded by women figures from each branch of the military in their service uniforms. These figures will depict servicewomen rising to their challenges despite adversities while they serve their country. The nearby museum will include:
static and interactive displays
classrooms and conference spaces (for community education and seminars)
gift shop & coffee shop
All retail operations will aid in the museum's stability and operation as well as the maintenance of the Veterans Memorial Park on the bay front.
The facility will also serve as a national training center for returning veterans of all genders and identities. The training will allow veterans to reside in Pensacola and train in construction to help
fill areas with a critical labor shortage. Everdean Construction, in support of Monument to Women Veterans, is excited to be involved in the state-of-the-art training center to help veterans become part of a community that embraces them. Dan Demchak, VP of Marketing for Everdean Construction states, "It is a great opportunity for us at Everdean to honor the history of women service veterans, while supporting the return of our current veterans and actively participate in the development of skills to ensure our veterans future success within the Pensacola community."
The public is invited to join in a ribbon-cutting ceremony and celebratory festivities at 980 E Heinberg St. on Friday, April 23 from 3 p.m.–6 p.m.
Guests can reserve a spot at the ribbon-cutting event by visiting MWVets.org/rsvp.