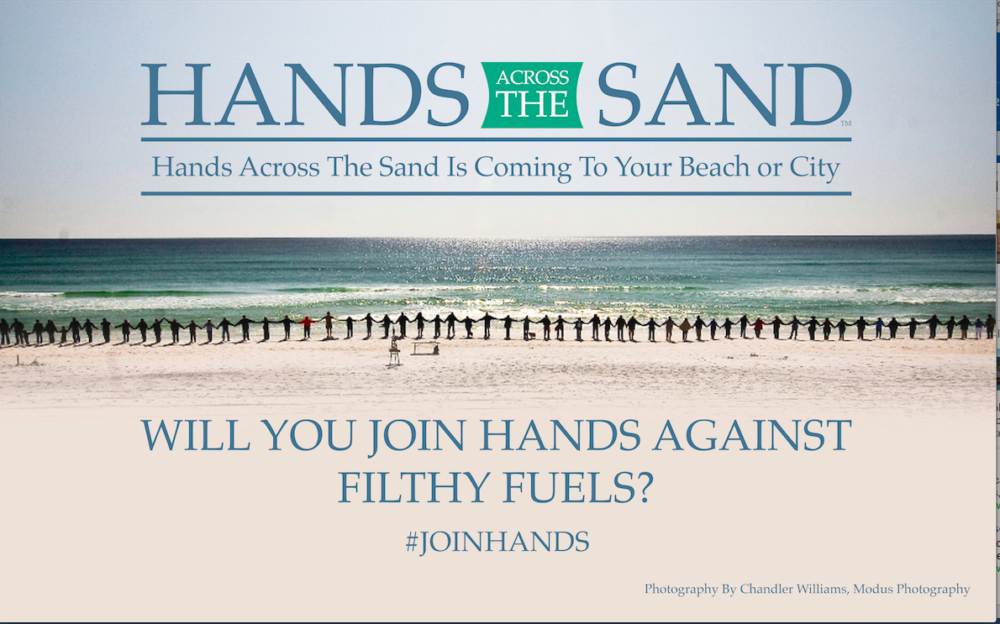 350 Pensacola and Oceana to Host Hands Across the Sand Event on Pensacola Beach
Event to Oppose New Efforts to Expand Dirty and Dangerous Offshore Drilling
Pensacola, FL– Conservation groups 350 Pensacola and Oceana will host a Hands Across the Sand event on this Saturday, May 20, 2017. The event, one of more than 27 across Florida, will be focused on opposing President's Trump's efforts to expand dirty and dangerous offshore drilling off the coasts of the United States.
Late last month, President Trump signed an executive order that requires a review of the five-year program (from 2017-2022) for oil and gas development off the coasts of Florida and other areas, and directs the administration to streamline the permitting process for seismic airgun blasting, an extremely loud and dangerous process used to search for oil and gas deposits deep below the ocean's surface. The order ignores overwhelming coastal opposition, and a grassroots movement that compelled the previous administration to abandon plans to pursue offshore drilling and exploration along the Atlantic coast.
Seven years after offshore drilling caused the worst environmental disaster in U.S. history, activists will join 350 Pensacola, Oceana and local supporters to gather once again to "draw a line in the sand" and oppose the industrialization of coastal communities and the risk of another BP Deepwater Horizon-like disaster. Speakers from local environmental groups and local elected officials will address attendees before joining hands on the beach to create a visual statement about protecting the Gulf, marine life and the beach towns and economies that depend on them.
The Pensacola City Council and the Escambia County Commission both recently passed resolutions opposing offshore drilling off the coast of Florida. As of today, more than 120 East Coast municipalities, over 1,200 elected officials, and an alliance representing over 41,000 businesses and 500,000 fishing families have publicly opposed offshore drilling activities. For a complete list of opposition, please visit www.StopTheDrill.org.
WHEN: Saturday, May 20, 2017 at 10:45 a.m.
WHERE: Meet at the Casino Beach pavilion on Pensacola Beach
20 Casino Beach Blvd, Pensacola, FL 32561