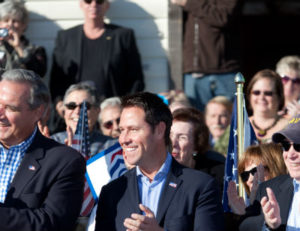 A key part of Mayor Ashton Hayward's claim that The Fish House owes the city five percent of its gross sales retroactively to April 2000 is that Seville Harbour (Ray Russenberger) partially assigned its master lease to Merrill Land, LLC (Collier Merrill and his brothers) when the Merrill Land bought the building on the Pitt Slip property (How Not To Do Business).
In my research, I could not find any partial assignment agreement signed by Russenberger, Merrill and City Manager Tom Bonfield.
For Mayor Hayward to send out the notification of default, he should have the assignment document so we have made a public record request for the document. Since the city should have it readily available because it's the basis of the mayor's claim, we expect to have it by 5 p.m. on Monday.
We will post it as soon as we receive it.
From: Rick Outzen
Subject: Re: Interview requests–Public Record Request
Date: December 8, 2013 4:00:41 AM CST
To: Tamara Fountain , Jane Ballard , Colleen Castille , Jim Messer

There is one more document that the Independent News requests concerning the notification of default sent on Nov. 15 to Ray Russenberger of Seville Harbour, Inc. and Collier Merrill of Merrill Land, LLC. by attorney Nix Daniel, on behalf of the city of Pensacola and Mayor Ashton Hayward. It was a notice of default under the Pitt Slip Marine Lease, dated Sept. 18, 1985, as partially assigned to Merrill Land, LLC under a sublease dated April 20, 2000.

The Independent requests a copy of the partial assignment signed by representatives of Seville Harbour and Merrill Land and has the signature of City Manager Tom Bonfield giving the city's consent to the partial assignment.

We would like the agreement by 5 p.m., Monday, Dec. 9 because of our news deadline. The document should be readily available since it was the basis of the notice.

Thank you.

Rick Outzen
Publisher, Independent News
850-438-8115
rick@inweekly.net

On Dec 2, 2013, at 1:11 PM, Tamara Fountain wrote:

Rick,

Colleen has decided not to do any further interviews. I am happy to assist with any documentation you need for your story.

Tamara