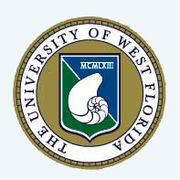 The University of West Florida announced its largest gift from a living donor, and UWF has named its College of Science and Engineering in his honor in gratitude for his generosity.
Harold E."Hal" Marcus has allocated $5 million to the college, and it will be named the Hal Marcus College of Science and Engineering.
Dr. Brendan Kelly, vice president for University Advancement and chief philanthropic officer called the gift a "turning point in the UWF's capacity in STEM education."
Marcus has been a longtime support of the university. His first contribution helped fund the archaeology program, which was established when Dr. Judy Bense was its chair. He wanted to make his last gift while Dr. Bense served as UWF president.
"I have made numerous investments over the years, but this investment in education is the best one I have ever made," said Marcus. "Thank you Dr. Bense for your commitment to UWF and to higher education."
The gift will serve to enhance the student experience and raise the profile of science and engineering programs at the University. Dr. Michael Huggins, dean of the College of Science and Engineering, says the gift will create new opportunities for students in the STEM disciplines, making them more competitive for the best available jobs in the state or for acceptance into the highest quality graduate programs in the nation. Such experiences may include field research abroad, expanded student competition teams and exposure to nationally and internationally recognized visiting lecturers as well as many more exciting opportunities.
Dr Kelly will be on "Pensacola Speaks" this afternoon to talk about the gift.