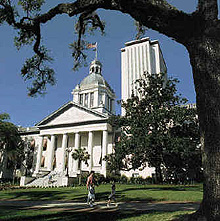 Moving forward with a priority of Senate President Andy Gardiner, a House committee Thursday unanimously approved a bill that seeks to boost employment of people with disabilities. The bill (PCB SAC 16-02) was approved by the House State Affairs Committee in preparation for the 2016 legislative session, which starts in January.
The bill, in part, would require state agencies to take steps that could lead to more jobs for people with disabilities. As examples, it would require each executive agency to develop a plan for promoting employment opportunities for people with disabilities and would require the Department of Management Services to develop training programs for human-resources officials and agency managers who hire workers.
Gardiner, an Orlando Republican whose son has Down syndrome, has focused on issues related to people with disabilities. He and House Speaker Steve Crisafulli, R-Merritt Island, said during appearances this month that they hope to pass a series of bills that would expand educational and economic options for Floridians with disabilities.
After the House committee vote Thursday, Crisafulli said in a Twitter post, "State Affairs Cmte just passed priority disabilities bill. Proud to help Pres. Gardiner strengthen opportunities for the disabled."
source: The News Service of Florida