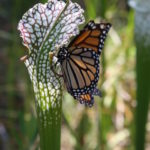 Press Release: The public is invited to come out to the Annual Roy Hyatt Environmental Center (RHEC) Open House and Silent Auction on October 18. Come out and meet, and even touch, wild animals. Hike a trail and look for birds. Tour the RHEC facility and then check out the fun children's activities, such as having their faces painted or making toy binoculars. RHEC is working this year with the Wildlife Sanctuary of Northwest Florida, Dauphin Island Sea Lab, the Escambia Amateur Astronomy Association, the Navarre Beach Science Station, Escambia County Extension, and the Frances M Weston Audubon Society to create unique experiences perfect for a family day out.
"We are so excited to be working with so many fine organizations," explained Molly O'Connor, a teacher on special assignment to the Roy Hyatt Environmental Center. "We hope that families will come out and spend a little time away from the rush of everyone's busy schedules and remember just how beautiful the natural side of Florida can be."
While you are there, be sure to view the great items donated for the silent auction. More items are still coming in, but so far, there are chances to win a dolphin cruise, gift cards to Intracoastal Outfitters, awesome recycled tire flower pots from Bruce and Joanne Byrd, gift certificates to restaurants, and much more. Lunch (hotdogs, chips, baked goods and water) will be available for a donation. RHEC t-shirts and tote bags will also be for sale.
All proceeds help cover RHEC expenses and maintenance.
Also, another way visitors can help RHEC, is to bring along something on the RHEC Wish List! Donations of items like hand sanitizer, fresh fruit and greens, suet, wild bird seed, or sunflower bird seed are always needed. The staff also appreciates donations of gift cards from stores such as Walmart, Lowe's, Sam's Club, Home Depot, any grocery store or any pet store. They have no objections to cash donations as well (wild animals eat a lot!).
For more information about the Open House, or to make a donation for the Silent Auction, please contact Molly O'Connor at moconnor@Escambia.k12.fl.us, or by calling (850) 937-2117.
Like us on Facebook at www.facebook.com/ecsdfl
Visit our web page at www.escambiaschools.org