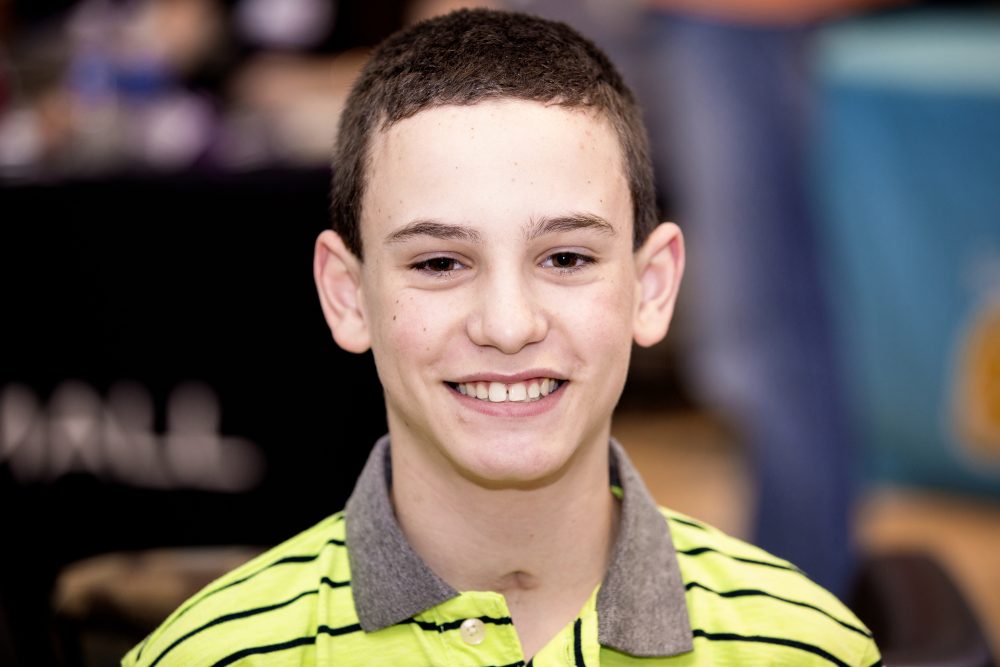 Today, 14-year-old Drew Barefield of Crestview will join pediatric patients from each state on an Ambassador Tour for Children's Miracle Network Hospitals. Drew was treated for multiple traumatic injuries at The Studer Family Children's Hospital at Sacred Heart, one of 170 member CMN Hospitals. Each "Champion" child has personally benefited from donations to the charity and illustrates how community support greatly impacts local children's hospitals.
CMN Hospitals' funds are helping to pay for a building expansion at Drew's children's hospital. This campaign is a promise to our region to provide life-saving care to more children and families, like Drew. Donations also cover equipment like syringe pumps and a transport ventilator, which helps stabilize kids like Drew between surgeries.
Champions and guests will fly into the District of Columbia, courtesy of Delta Air Lines, and will be welcomed by Champion alumni and supporters at a celebratory event at the JW Marriott Washington, DC. Throughout the week, Champions will share their inspiring stories to encourage charitable support for children's hospitals. Opportunities include touring Marriott International headquarters to thank associates and leadership for their continued support, attending Senate meetings on Capitol Hill, generating awareness at a Washington Nationals game and participating in a satellite media tour with TV stations across the country.
Drew will share his amazing story. After being struck by a boat, he spent 75 days in The Studer Family Children's Hospital at Sacred Heart in Pensacola and underwent 13 surgeries. During his treatment, he showed a positive, "can-do" attitude and genuine concern for other pediatric patients.
"Drew Barefield is a remarkable young man who inspires others to live each day to the fullest," says Carol Carlan, president of the Sacred Heart Foundation. "We are honored to have Drew represent the thousands of children treated each year as he meets with Senators and our CMN Hospital partners in DC. Miracles are happening in our community. Drew Barefield is showing our community, that miracles and life-saving care are being provided at The Studer Family Children's Hospital at Sacred Heart, your Children's Miracle Network Hospitals."
"The specialized care children's hospitals provide is only partially funded by government and insurance programs," says John Lauck, president and CEO of Children's Miracle Network Hospitals. "As our Champions demonstrate, local donations are crucial to ensure children's hospitals are able to fund pediatric research, equipment, treatments and services necessary to save and improve kids' lives."
The 2016-17 Champions program is presented by Delta Air Lines, Marriott International, Chico's FAS, Inc. and Ace Hardware. This year marks the 20th anniversary of the Champions program, where a child from each state, the District of Columbia and Puerto Rico is selected to highlight the great work and tremendous needs of children's hospitals. In honor of the program's milestone year, 1996 Champion alumnus, best-selling author and Paralympic skier Josh Sundquist will return to address the new class of Champions. Miss America 2016 Betty Cantrell, the national goodwill ambassador for CMN Hospitals, will also accompany the Champions and participate in media opportunities.
The 2016-17 Champions will reunite in March 2017 for the second half of their Ambassador Tour in Orlando, Fla., at CMN Hospitals' annual Momentum event, where the charity's 170 hospital members gather with corporate and media partners. Through additional speaking engagements, appearances and media interviews, the Champions will complete their year of service by thanking and inspiring those who support the children's hospitals they depend on.
To learn more about our state Champion, and for a brief video of last year's Ambassador Tour, visit CMNHospitals.org/Champions. Watch for and use hashtag #ChampionsForKids for Champions updates.