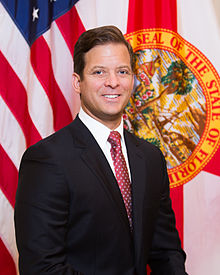 Lt. Governor Carlos Lopez-Cantera yesterday came on "Pensacola Speaks" to talk about ISIS and Syrian Refugees.
"The governor and I yesterday both called on Congress to cut off funding for organizations within the state that could possibly be accepting Syrian refugees in Florida," said the lieutenant governor, who is also a candidate for the U. S. Senate. "After this week and this horrible weekend in Paris, it's become evident via news reports that one of the attackers who was a suicide bomber had a Syrian passport that had gone through one of these United Nations refugee camps."
He said, "Our first and primary responsibility is to protect the citizens of the United States of America."
When asked about the comparisons that some have made between the Syrian refugees and those would fled the Castro regime in Cuba, Lopez-Cantera said, "I'm the son and grandson of Cuban refugees who came to this country escaping from a dictatorship, a communist dictatorship that had already taken control of the country. The situation in Syria is totally different."
He explained, "They're marred in a civil war. They're' three different groups fighting each other. You have international players like Russia and Iran involved. One of the players in Syria is ISIS, which is where ISIS was born. This is a totally different situation and not comparable at all."
The lieutenant governor said the ISIS has found new ways to communicate.
"ISIS is unprecedented in how they're carrying out their evil throughout the world," he said. "Do you know that they use Xboxes and PlayStation, going online in games to communicate via the headsets through the Internet? Those are not typically monitored lines of communication by the intelligence committee, I would not think."
Lopez-Cantera added, "Unfortunately, they're thinking outside the box…They're evil in ways that have not been seen before."