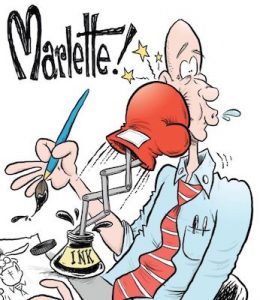 The daily newspaper's award-winning cartoonist and one half to its editorial board, Andy Marlette, found a new target for his Sunday column – taking a break from Matt Gaetz and the Escambia Board of County Commissioners – former Sheriff David Morgan. And Morgan and his statue are fair game.
Marlette even mentioned my Thursday interview of Morgan on NewsTalk 1370 WCOA, expressing his disappointment that I asked "uncritical questions" and alleging that I said that Morgan's reimbursement to the county for the cost would make the issue "go away."
Sorry, Andy, I never said that. I made it clear from the being of the segment that I would give Morgan a forum to explain his actions. He did, and I let his words stand on their own merit. And the six-minute podcast has had 694 downloads since it was uploaded.
The two questions I asked were about Morgan's wife. And, yes, they were uncritical.
Did Andy talk with Morgan before writing his column? According to daily's article, PNJ reporter Colin Warren Hicks talked with Morgan – were there any "critical questions" Andy thinks Hicks missed?
For readers, I'm not upset with Andy. He is the voice of his newspaper that is part of the largest, most powerful newspaper chain in the country, and I have my little "media empire." He decides his newspaper's positions and I handle Inweekly.
I texted him my thanks for the plug. I'm sure we will continue to disagree on several topics.
Here is the full raw transcript of the Morgan segment and the podcast:
Rick Outzen:
Welcome back to Real News with Rick Outzen News Talk 1370 WCOA. The big news yesterday that popped all over the place was a statue of former sheriff David Morgan showing up at the sheriff's office. And it is the policy, what we have done with this show and what we want to continue to do, is we want you to listen to the news-makers and we have on the line David Morgan. David, thank you for coming on the show this morning.
David Morgan:
Hey, good morning, Rick.
Rick Outzen:
Good morning. Explain the statue.
David Morgan:
Well, we were redoing the sheriff's office grounds. There were planned upgrades for the employee break area. We put in fences, we put in some cookers and was also planning to redo the memorial. And so our protocol officer had traveled some and we were going to replicate what we saw both at the Florida Sheriff's Association and also other sheriff's departments where there were bronze likenesses or statues that you would be saluting the fallen officers and the current men and women that are serving. And so the idea was to replicate that here at the Escambia County Sheriff's Office. And so we had the money, and actually the News Journal as always got it wrong. It was not $75,000 for me. It was like 37.5 for the statue of the sheriff and then 37.5 for the K-9 [inaudible 00:01:34] K-9. So it was 37.5 and 37.5. It wasn't 75,000 for just the statue of me.
David Morgan:
And Rick, it came down to a vote. It was, okay, whose likeness do we use? And it came down to Andy Marlette at the News Journal and me, and I won. I won and so I said, "What the hell, go on and make the statue of me." So that's what it came down to. The sad part of this is like you said. Ooh, this is the news. With COVID and Kabul and everything else going on, this is the news. Must've been a slow news day yesterday. But anyway, you and the folks will be happy to know that I'm going to write a check to the county today for 37.5 to pay for the statute.
David Morgan:
So the sad part of this, Rick, is I didn't get a call from anybody except the News Journal to ask me, "Okay, we got statues down here, Sheriff. What do you want us to do with these things?" And I would have explained to everybody very calmly, as I just explained to you, that this was part of the upgrade project around the sheriff's office. And if you're offended by the fact that the statue was a likeness of me, well, okay, change the face. I could care less. It was about an homage to our first responders and the men and women that I served with for 12 years. But governance by ambush, that's kind of the rule in Escambia County. That's chapter one of how to lead in Escambia County. We never call the question. We don't pick up the phone and call somebody and say, "Hey, what's up with this? We'd like your take." And that's how this goes. So it's just another day in Escambia County.
Rick Outzen:
Well, yeah, that's why we have-
David Morgan:
We'll write a check to to, to the general fund for the sheriff's office. Then tomorrow you can talk about something else.
Rick Outzen:
All right. We are News Talk 1370 WCOA. I'm really lobbing Cumulus to by the statute. I think that we could… We will take the statute. We'll put it right in front of here. Because we have the EOC right here, right [crosstalk 00:03:50].
David Morgan:
You've always been a stand up guy, Rick. I really appreciate you lobbying for that. I would have expected no less of you. You're listening to former sheriff David Morgan telling us the story about the statute. The other thing that I…
Rick Outzen:
Last night doing some research for this, and I appreciate you coming on the show, is that Sheriff Grady Judd has a similar type statute, doesn't he? I mean, this is not that uncommon. [crosstalk 00:04:17] sheriffs have statues like this.
David Morgan:
And at the Florida Sheriff's Association, actually, they have several bronze statues out front. And again, this is one of those things, Rick, in hindsight, was it a good thing to do? Well, who knows? It was just something that we did to honor the men and women, but we want to personalize this in Escambia County. We always look for the negative. We never look for the positive. And so again, I'll make your story go away. I'm going to write a check today. So what are you going to talk about tomorrow?
Rick Outzen:
Well, there is a reason I titled my first book City of Grudges.
David Morgan:
Yeah, no kidding. No kidding.
Rick Outzen:
Well, David, thank you [crosstalk 00:04:58]. Go ahead.
David Morgan:
And the general public wonders why no one wants to run for public office. Wow, I got a couple of clues.
Rick Outzen:
How's Susan doing? How's everything else going at the household?
David Morgan:
We're doing great, Rick. There's nothing life-threatening about the health issue, thank goodness. But every once in a while, God grabs you by the nape of the neck and gives you a hard shake and says, "Hey, you need to start focusing on what's important here in life, and it's not adding another title to your resume." And so that's what we're doing. We're going to enjoy life. And with all the friends I have the Escambia County Sheriff's Office looking out for my wellbeing, it's going to be great.
Rick Outzen:
All right. David, thank you so much for coming on the show and setting the record straight.
David Morgan:
You bet. You bet.
Rick Outzen:
We'll have you again. Take care.
David Morgan:
All right, Rick. Bye-bye.
Rick Outzen:
Bye-bye. We're News Talk 1370 WCOA, Real News with Rick Outzen. Yes, yes.