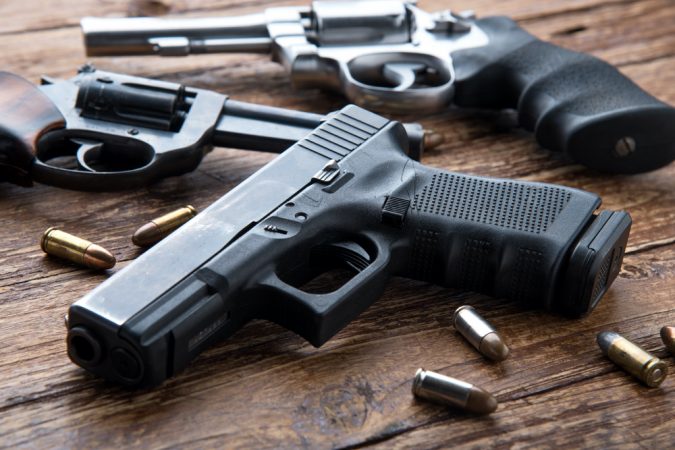 by Jeremy Morrison, Inweekly
The city of Pensacola's gun buyback initiative is as much about building trust as getting guns off the street, Mayor Grover Robinson said Wednesday.
"It's about building trust. Trust is the most important thing we can do for neighborhoods; they've got to feel that you're putting forward the efforts," Mayor Robinson said during a Facebook Live Q&A session with citizens.
Pensacola City Council will be discussing the buyback program Thursday, deciding whether or not to move forward with District 7 Councilman Delarian Wiggins's initiative. The mayor said he didn't expect the program to entirely clear guns from the streets — "I don't think it's going to totally stop gun violence" — but rather serve to develop relationships within the community.
"I think it's all dependent on how you define success," he said.
Mayor Robinson said that he was relying on Councilman Wiggins to have an accurate read on what his district needed — "He went into that neighborhood, he asked the citizens what they wanted. They were very clear to him." — and downplayed criticism coming from other sectors of the city.
"It doesn't matter if it's not important for you in your neighborhood; they want to know that you're willing to work with them in their neighborhood. We've said for a long time that neighborhood responses would be tailored to those neighborhood needs," Robinson said, stressing that District 7 residents felt the effort could be helpful. "I've heard from a lot of people outside of District 7 that do not like the idea; I haven't heard from anybody inside District 7 that didn't necessarily like the idea, so you know, I think we'll let District 7 continue to figure out what they want to do."
New Community Center on Tippin?
Also, during Wednesday's Facebook Q&A session, Robinson said that the city could potentially use a new community center to compliment the Vickery Center on Summit Boulevard.
"We think that having a community center at Tippin can play well with the Vickery," Robinson said. "We can play off each other for both basketball and volleyball and be doing tournaments that can happen and are workable."
The mayor said that he had conferred with Parks and Recreation Director Brian Cooper and that there was a sense that "Vickery can't do what we'd like it to do all by itself" and it might be good to have "a sister community center close by."
"We have Gull Point in the northeast, but we don't really have one in the northwest," the mayor said of the city's stable of community centers.
Ultimately, though, any new community center will hinge on Local Option Sales Tax (LOST) funding, and there are other projects already on the table, such as improvements at McGee Field.
"We've got a lot of projects going on," Robinson said.
Bridge Concerns
Citizens also asked Mayor Robinson about the reopening of the Pensacola Bay Bridge in March, particularly about the chances of continuing to waive the toll on Garcon Bridge — currently being used as a detour route — until the bay bridge, which will only be two lanes while further work is completed, is fully reopen.
"It is going to be more than that bridge can handle," Robinson agreed, saying that he assumed some drivers would continue to use Garcon due to this.
However, the mayor did not know the Florida Department of Transportation's plans on this front.
"We have not heard anything," he said, adding that he agreed "that would be great" and "very important" and something the city is communicating with the state. "We will continue to work anyway we can encourage the state to keep those tolls down until we can get it back open to four lanes."