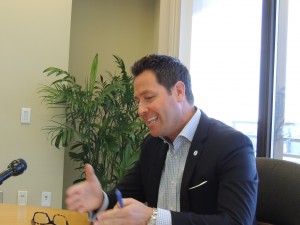 Pensacola Mayor Ashton Hayward appeared this morning on the "Morning Show" on News Talk 1370 WCOA. Jim Sanborn, co-host of the show, asked the mayor if Ed Spears, the CMPA executive director since 2006, was fired or did he resign.
The mayor said, "I think it was a mutual agreement where we both decided to go our separate ways."
Hayward told Sanborn and Don Parker, the other co-host, that "some exciting things" are going on at the Community Maritime Park.
"I think what's important now for the citizens is we do have a very first class real estate company partnering with local companies that was tasked by the CMPA board of directors to bring in potential clients that can deliver a first class project to the city," said the mayor. "We're dealing with the board, a lot of people have input, either volunteers that do a good job, but when you bring in a company like that, we need to make decisions, and I think that's what we're trying to do."
He encouraged people to be positive about the CBRE and the city. "We're not saying whether we're going to do this deal or not do this deal, but let's give it a fair shake. Let's do our diligence. Let's be positive in that way which we're speaking with others about Pensacola, and let's look for a win-win that makes sense for the community and the citizens."