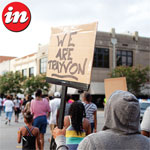 Sybrina Fulton, the mother of Trayvon Martin, will be the guest speaker at Prayer Rally held on Friday, October 17 St. John Divine Church, 620 E Jordan Street.
"Understanding with everything we've gone through as a community, the one thing we do too little of is pray," said Terry Marshall, wife of St. John Divine paster, Dr. Joseph Marshall. "God is calling for the wailing and skillful women of God to cry out. Well, Friday, October 17, the entire community is asked to join us as we cry out to God on behalf of our city." We will begin with a Pray Rally meet and greet/reception.
There will be a meet and greet with guest speaker Sybrina Fulton, mother of Trayvon Martin, and the community supporters from 4 -5:30 p.m. at the church. The cost for the reception is $50.
Following the meet and greet, the prayer rally will begin at 6 p.m. It will be comprised of speakers, prayer and a tribute to the families that have experienced a lose. The pray rally is a free event.
The event climaxes Saturday, Oct 18 with the Where Are My Sisters (WAMS) 4th Annual Womenar. The purpose is to provide a venue for women to bond and network while dealing with riveting topics and issues that affect our daily living and challenges our thinking. This is a free event that has workshops, food, door prizes and a panel discussion featuring Lady Vonda Yates and City Councilwoman Jewel Cannada-Wynn as we discuss "Cover Girls"- When Women of God Cry Out.