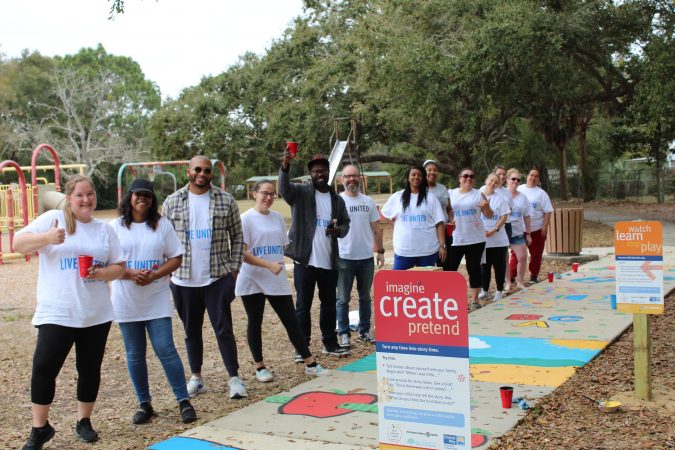 United Way of West Florida's newest Born Learning Trail is now open at William E. McNealy Sr. Park. It is the organization's fifth trail installed in Escambia and Santa Rosa counties.
Born Learning Trails are designed to actively engage learning through art. A series of 10 interactive signs guide parents and children. The trails are intended to offer fun, learning activities for young children and their families.
"This is the perfect time of year for families to explore the trails," said Mary Zaledonis, Director of Community Impact at United Way of West Florida. "We are so thankful for the partnerships and volunteers that make these trails possible."
Volunteers from Navy Federal Credit Union helped install the newest trail during United Way of West Florida's Day of Caring.
"I had no idea that painting the activity trail would be so much fun," said Lachelle Johns, Navy Federal Credit Union team leader for the Day of Caring project. "My team showed up and showed out majorly for the Woodland Heights neighborhood."
"A mother from the neighborhood stopped by to thank us. Her words gave life to the spirit of why we were there," said Johns. "My team poured their hearts into that project, as much as we poured paint into everything but buckets, and I am sure our love will be felt for many days to come."
There are four other United Way of West Florida Born Learning Trials- in Century, Jay, Floridatown, and Pea Ridge. These trails are made possible through the partnership of International Paper, the Early Learning Coalition of Escambia County, the Early Learning Coalition of Santa Rosa County, the Town of Century, the Town of Jay, and the Santa Rosa County Board of County Commissioners.
Learn more by visiting uwwf.org/born-learning.