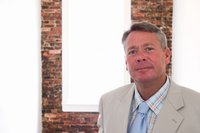 Former Mobile, Ala. County Commissioner Stephen Nodine has struck a deal in his murder case. On Friday afternoon, he pleaded guilty to harassment and perjury in exchange for the prosecution dropping the murder and stalking charges in the May 2010 shooting death of his longtime girlfriend, Angel Downs.
Nodine was the darling of Northwest Florida from 2008-2010. He took credit for nearly every economic development in the Mobile area, such as the steel plant and the proposed Northrup Grumman contract with the Air Force for a new fleet of air tankers (that later went to Boeing instead). Nodine spoke regularly here before Rotary clubs, chambers and other organizations. He even helped Commissioner Gene Valentino introduce his economic development strategy to the Escambia County Commission.
Nodine was also a heavy weekend party guy on Pensacola Beach and Perdido Key. He and Valentino competed regularly at the mullet toss at the Florabama.
Things began to fall apart for Nodine in December 2009 when a worker in the Mobile County maintenance shop reported finding small amounts of marijuana in the commissioner's county-issued pickup truck. In May 2010, neighbors found Downs dead outside her Gulf Shores home and reported seeing Nodine speeding away. Nodine was later charged with the murder.
Weeks later, Nodine resigned from office rather than fight impeachment charges and ultimately pleaded guilty to a misdemeanor drug possession charge. His first trial on the murder charges ended with a hung jury.
Read the Mobile Press Register article.