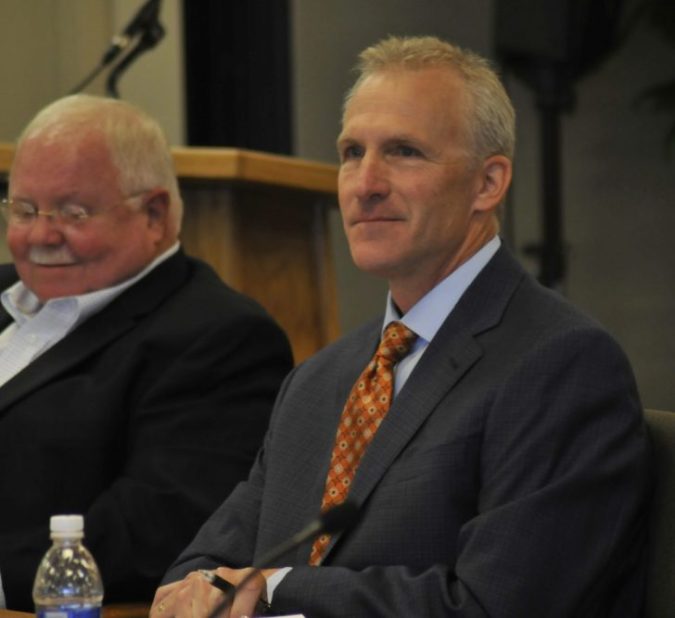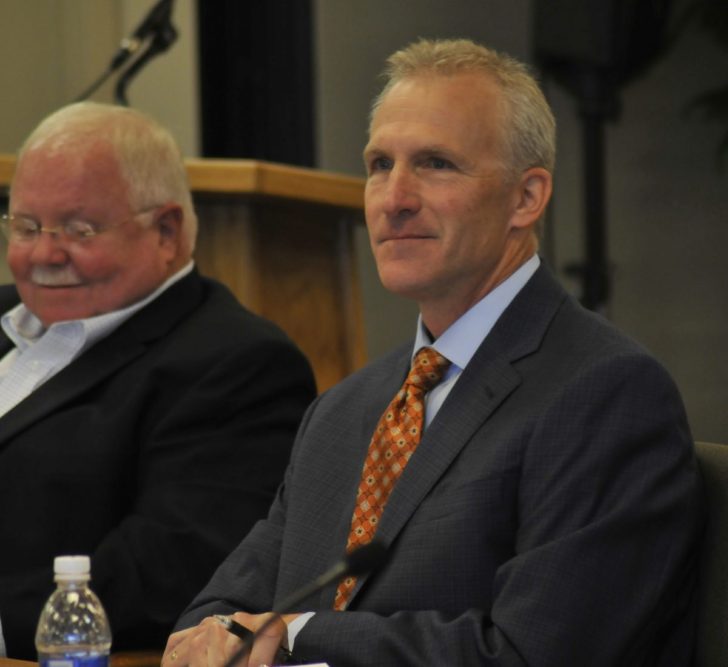 City Administrator Eric Olson gave his monthly report at the Pensacola City Council meeting on June 16. His five-minute report covered the Airport Commerce Park, Escambia County Commission actions, BP settlement funds, and the MWBE program
"With your approval last month of the purchase of the Garner residence in the Airport Commerce Park, that's now enabled airport staff to assemble an area which we think we can move towards annexing," he said. "We'll be working on that. It will probably be later in the year, but that will be coming to you with an effort to annex that area of the Commerce Park."
Olson told the council about the Escambia Board of County Commissioners decision to postpone its vote on the funds requested for the remediation of the groundwater at the Government Street Stormwater project.
"We've got remediation issues involving the former mosquito control facility that was just to the north of that," he said. "County Commissioners voted or they took the action to postpone that item until a special meeting on June 21."
His explanation for the delay wasn't accurate, based on the email that Commissioner Doug Underhill sent to Assistant City Administrator Keith Wilkins.
"While I have no animus toward your project, it is important to understand that County dollars will be spent on County priorities," wrote Underhill. "Where City and County priorities overlap (which this project may indeed be one of them), staff will need to get its stuff in one sock and not bring it to the BOCC as a crisis item. Proper planning and staffing would have prevented this from becoming an issue and it could have been passed on a consent agenda."
Olson said, "They were scheduling a special meeting for other reasons, this one just got pushed. Largely, because only three members were present this morning, and they wanted other people to be able to weigh in."
He also told the council that the BCC had not taken any action on the BP Oil Spill funds that are locally controlled by the commissioners, which referred to as "Pot 1 money." Another BP distribution, referred to as "Pot 3 money," is controlled by the Gulf Consortium, which is comprised of Florida's 23 Gulf Coast counties. The Consortium decided to divided those funds evenly among the counties, which means $12 million for Escambia County.
"Commissioner Robinson brought forth an item on today's agenda to take Escambia County's money and put that into a restoration work in Bayou Chico," Olson said. "It hasn't been run by anybody on the city staff, not to say that that's not a worthwhile project, but I just want you to be aware that there's movement on this $12 million."
He added, "It looks like it may be moving pretty quickly because the Gulf Consortium has a meeting scheduled on June 28 to at least consider these projects."
The other "pot of money" is the 75-percent share of the state's $2 billion settlement with BP that is intended for the Northwest Florida counties impacted by the 2010 BP oil spill.
I interviewed incoming Speaker of the House, Richard Corcoran, who said Northwest Florida can expect to receive the funds. The first distribution will be $300 million for the Panhandle.
"I think how it will play itself out is that the Panhandle will get the $300 million of this first tranche of $400 million," said Corcoran." I do think though that we would probably go back in and look at making sure that it's accountable."
Olson told the council, "We continue to lobby at the state level to make sure that we keep that money up north. You all know there's a lot of pressure from South Florida to take that $1.5 billion and distribute it to all Florida Counties."
He asked the council to lobby the state delegation to keep funds in the Panhandle.
The city administrator announced that they city is opening bids on its first construction project with a Minority-owned and Women-owned business (MWBE) goal, the Chappie James Memorial Park. The bid comes five years after the Pensacola City Council approved the disparity study that is the basis of the MWBE program.