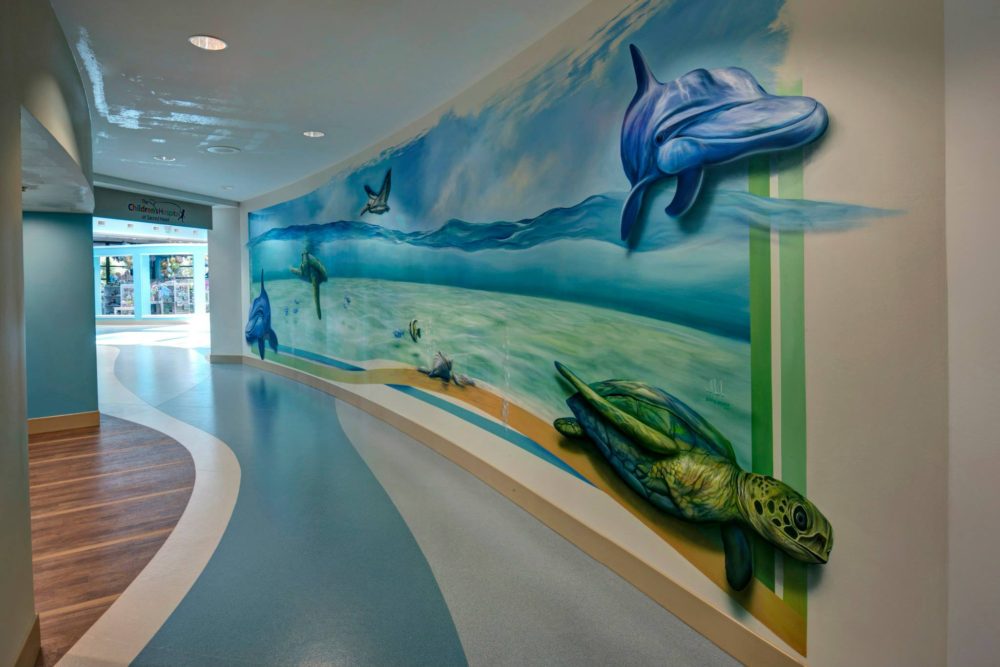 In the summer of 2015, Pensacola artist Ashton Howard painted two sea-life murals inside the lobby of The Studer Family Children's Hospital at Sacred Heart. The lobby had recently been renovated, and when Ashton's murals debuted, he was excited to share his work, knowing that children and families would enjoy the paintings for years to come.
He had no idea that one of those children would be his own.
Ashton and his wife Emilie – who were both born at Sacred Heart – were eagerly anticipating the birth of their own son when, on Saturday, Feb. 11, Emilie's water broke. The couple arrived at Sacred Heart, and Hagan Howard greeted the world at 6:50 p.m., measuring 21¼ inches long and weighing 7 lbs. 9 oz.
Soon after delivery, doctors and nurses detected fluid in Hagan's lungs. He was rushed into the Neonatal Intensive Care Unit (NICU) at The Children's Hospital.
"This is an amazing place with an incredible team of doctors and nurses!" said Ashton. "Of course, having a child in the NICU is scary, but we are so thankful for all the work the team does here. We have truly loved our experience. Dr. Medlock, who delivered Hagan, did a fantastic job. He was so calm and professional. He spent about 45 minutes talking with us in the NICU, making sure we were at ease and that all of our questions were answered. All of the nurses have been so knowledgeable and patient. Hagan was in great hands. The few times we've left the hospital to sleep or run errands, we knew he was loved and well cared for."
Baby Hagan spent a week in the NICU before being discharged home. On their way out of the hospital, passing through The Children's Hospital lobby, the new parents stopped by the mural to share Ashton's work with their little miracle.
Ashton's first mural adorns the hallway connecting The Children's Hospital with the rest of Sacred Heart's Pensacola campus and includes paintings of dolphins, turtles, fish, shells and a pelican soaring above the waves. The second mural lies above the entryway and is visible only from The Children's Hospital's second and third floors, where patients and visitors can look down into the lobby for an aerial view of a pod of dolphins swimming among ocean colors.
Ashton has painted professionally for 12 years, typically on canvas, and his paintings sell in galleries throughout the United States, from Honolulu to Key West. He does several murals a year. Most recently, he painted the Jefferson Street mural in downtown Pensacola, which was the largest public art project in the city's history. Ashton's other Pensacola murals can be found in the downtown YMCA and at Paradise Bar and Grill on Pensacola Beach, as well as in private residences.
"Ashton put so much care and attention into painting his murals in our Children's Hospital lobby," said Melissa Ramirez, patient care manager of the NICU at The Studer Family Children's Hospital at Sacred Heart. "Now, every day, when our staff comes into work, we will see the mural and remember how blessed we were to care for Baby Hagan – Ashton and Emilie's greatest masterpiece."