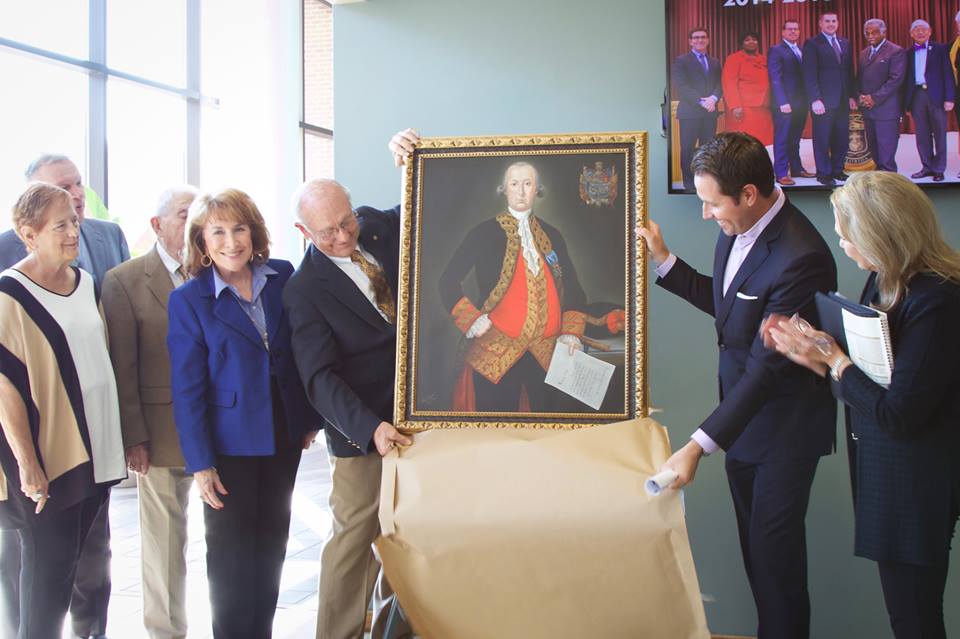 This week, the Gálvez Monument Project received a meaningful gift from the society known as the Granaderos y Damas de Gálvez (soldiers and women of Gálvez) and the Foundation Remedios Medina, by its President Francisco Javier Fructuoso Medina.
In cooperation with Pensacola's Sister City, Macharaviaya, this dedicated group of individuals offered to help raise funds for Pensacola's statue by commissioning a portrait of General Gálvez. The portrait was painted in Málaga by Francisco Rodríguez, a young artist from the same school as Monserrate, the author of the original portrait.
In a letter to Pensacola Mayor Ashton Hayward, who was at the unveiling of the painting, Katie Hallybone, Vice Mayor of Macharaviaya wrote that the "original iconic painting of the General has an addition, making it unique to Pensacola."
The artist included the coat of arms of the General on the upper right of the portrait. Within the coat of arms is written in Spanish, "Yo Solo." The English translation is "I alone" and represents the statement Gálvez made before the battle when his Spanish Navy ships were reluctant to enter the narrow strait of Pensacola Bay. Galvez offered to sail in first, alone, and as a consequence the rest of the ships followed and the resulting battle was one of the longest sieges in the American Revolution.
The Pensacola Heritage Foundation will raise funds for the statue dedicated to Bernardo de Gálvez. Pensacola Heritage Foundation will then give the completed monument to the City of Pensacola. Read more.