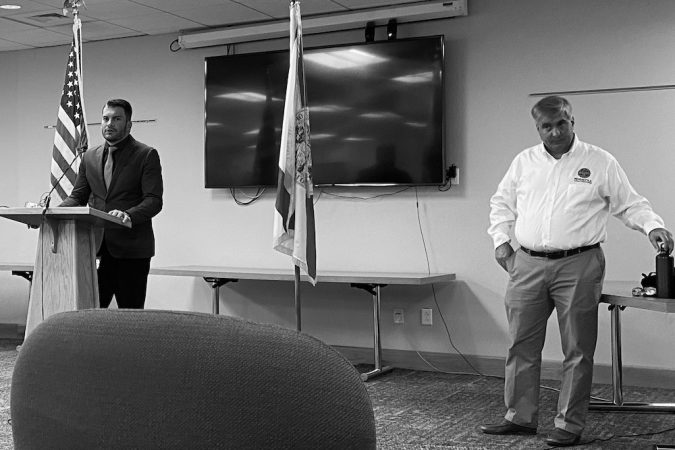 by Jeremy Morrison, Inweekly
With Tropical Storm Fred looking to be shifting away from Pensacola, Mayor Grover Robinson breathed a guarded sigh of relief during Monday morning's press conference.
"It's still looking like the greatest impact will be to the east of us," the mayor said. "So, we sit on the better side of the storm."
Although Fred is expected to make landfall near Destin and Panama City sometime Monday night, with the majority of impacts felt to the east of the storm's center, Pensacola will still see some rain and wind and flooding. While the city is not declaring a state of emergency, there will likely be some area's of concern when it comes to flooding.
"Probably 9th Avenue, as well as DeViller's will be the areas most impacted in the city," Mayor Robinson said, advising drivers to find alternate routes in the case of flooded streets.
In addition to forecasting Fred's impact on the local area during Monday's presser, the mayor also dug into the current spike in COVID cases and hospitalizations; the promotion of David Forte to the position of deputy city administrator; and the potentially green future of some remaining parcels at the Community Maritime Park.
"We hit a new high yesterday at 396."
COVID & the Psychotic Politics of Vaccines
With summer's delta variant making the rounds, as well as a stall out in vaccinations, local COVID numbers are way up. Hospitalizations for the virus are particularly worrying.
"We hit a new high yesterday at 396," Mayor Robinson said, listing off recent COVID stats, including hospitalization numbers, which are considered an indicator of an area's ability to adequately handle the impact on the community.
"The good news, if there's any," the mayor continued, "is at least a little bit of the growth has not been as exponential as it was before. We have seen some leveling out. But it continues to go up, and we think we could be experiencing this or a couple of more weeks, going up, before we can get on top of it."
Robinson also spoke about the impact COVID was having on local hospitals ability to care for patients with more routine medical needs: "It's not just about COVID. It's about heart attacks, cancer, strokes. Even good things that we want to see, like births. These are all challenged by where we are with the hospitalizations at this particular time."
While the city is taking some limited actions — like requiring masks in city facilities and freezing permits for indoor events in city facilities — Mayor Robinson noted that the COVID vaccine is the ultimate solution.
"If we're going to get through it, we've all got to get vaccinated," he said.
But vaccinations have stalled out. Even among city employees, who have been offered financial incentives and the availability of the vaccine at work, only around 40 percent have been vaccinated.
Mayor Robinson pointed to the politicization of the vaccine, as well as safety measures, such as wearing masks.
"We've made instruments of dealing with things, we've made them political," the mayor said. "And they shouldn't be political, they should simply be instruments."
Robinson said that he was surprised to see that the vaccine was being politicized and said that the issue should have bipartisan support.
"The question is when does the public begin to worry less about the politics of the vaccine and more about the real health concern?" he said, noting that notable conservatives were also supportive of the vaccination efforts. "I mean, I'm a registered Republican, I got vaccinated. And I think those are things that we shouldn't be afraid to say."
The mayor suggested that perhaps the issue should be reframed into one that folks of various political persuasions could rally around. He pointed to the issue of hospital capacity as potential point of focus and agreement.
"Can we all say that's a bad thing, to run out of beds, to where if you had a heart attack you couldn't even get a bed?" Robinson said. "I think these are things we should all be able to rally around as a community and say this is a priority."
Keep It Green?
This week the Pensacola City Council will workshop a new proposal for a couple of parcels at Community Maritime Park. The proposal calls for a convention center, but the mayor doesn't sound too hip on the concept, suggesting Monday that maybe the empty properties should be left natural instead.
"Perhaps we keep the space green, and figure out how to keep it in a green format and figure out how to sell the stormwater rights and allow for development other places out there," Robinson said, suggesting such a move could help development at nearby Bruce Beach fall into place easier.
City Council recently approved a development proposal for parcels 4 and 5 at the park, but Robinson said that the event center outlined in the plans would require currently non-existing hotels rooms downtown, between 700-800 of them.
"If there was a large scale hotel associated with this, perhaps you could evaluate this," he said.
Also, Robinson contended, the event center won't bring in any revenue to the city, but rather drain it of funds: "Those don't make money. You're constantly, every year, you got to figure out how to feed them."
Looking ahead to Wednesday's council workshop on the proposed project, as well as that project's narrow approval in the first place — "it's wasn't a 7-0 vote, it was a 4-3 vote. So it was a very marginal proposal" — Mayor Robinson said that maybe the city should take everything back to the drawing board and reimagine the best use for these open spaces at Maritime.
"Maybe we just need to reevaluate all the way through," he said.
'Best David I Can Be'
David Forte has been named the city's new deputy city administrator. Currently, he serves as capital improvement project manager. Forte will be replacing Kerrith Fiddler, who will be the city's new city administrator.
In announcing Forte's promotion Monday, Mayor Robinson noted that he was familiar with Forte's work since his days with Escambia County, where the mayor perviously served as a county commissioners. Since becoming mayor of Pensacola, Robinson has ushered numerous Escambia County ex-pats, Forte among them, over to city hall.
"I'm certainly very familiar with David, coming over from the county. I think he's been a great addition to us and continues to show how we bring talent here."
Forte said that he looked forward to stepping into his new role, which he does Oct. 1, and nodded towards his co-workers and said he was looking forward to just building on the momentum that we have here and working alongside all these great people at the city of Pensacola."
"I can't stress enough just how impressive the team is here," Forte said. "It's a team full of hard workers, people that take pride in their work, but more importantly, just good people, good people doing good work, and that motivates me every single morning to get up and to come here and to be the best David that I can be."