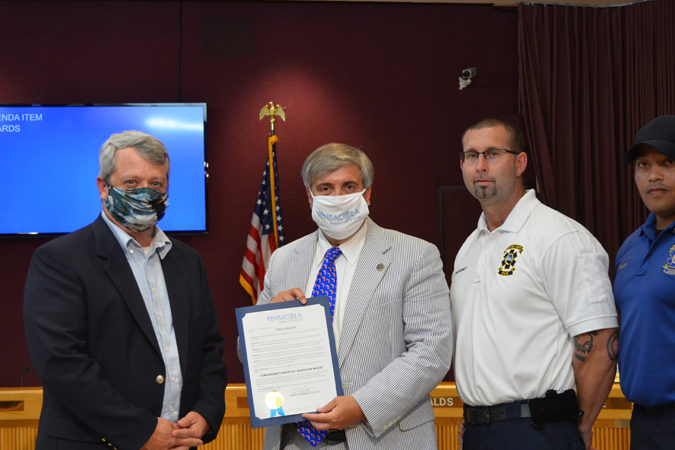 By Jeremy Morrison
Pensacola Mayor Grover Robinson now finds himself needing to caveat a recent decision by the Pensacola City Council to remove a Confederate monument from downtown.
"There's still a lot of questions going on with the monument," Robinson said Monday during his weekly press conference.
Last week, city council voted to remove the Confederate monument from Lee Square on Palafox Street, and also return the area to its original name of Florida Square. Soonthereafter, a lawsuit was filed by Sons of Confederate Veterans, along with other organizations, seeking to stop the city from removing the monument; First Judicial Circuit Court Judge Gary Bergosh quickly granted an emergency temporary restraining order preventing the monument's removal prior to a preliminary injunctive hearing.
The mayor contested the rationale of the lawsuit — that the monument is a purely veterans' memorial — and also dismissed claims that any Confederate remains are enclosed in the monument.
"It is not a veterans' monument," Robinson said, pointing out that plaques at the monument base dedicate the site to Confederate leaders. "It is a monument to Jefferson Davis."
The mayor said that he has had a number of people contact him about the monument's removal, casting him as a "prisoner of the moment." He stressed that the city was not trying to "erase history," but rather move the monument to a more appropriate place, such as potentially St. Michael's Cemetery, where a number of Confederate veterans are buried.
"It's not the intent to erase history, it's an intent to relocate history," Robinson said.
As to the legal challenge regarding city council's decision to remove the monument, the mayor said that City Attorney Susan Woolf will be assisted by private attorney Bruce Pardington at a "much reduced rate."
"The city will comply with whatever decision comes out of the court system," Robinson said.
Escambia Still Mask Shy
In the weeks following his issuance of a city-wide mask mandate for indoor, public spaces Mayor Robinson has pleaded with other local governments in the region to enact similar such orders. Only Gulf Breeze has followed the city's lead.
Monday, Robinson stressed the rising number of COVID cases in the area — "we are having challenges" — and again repeated his request that other local officials consider mandating masks.
"I continue to remind them that we as local leaders asked for the opportunity to lead," the mayor said. "I don't believe we need the governor to step in and ask us to do something."
Robinson said he wasn't expecting that leaders in Escambia County would move to require masks. He said he had spoken specifically with Commission Chairman Steven Barry, who he described as "less optimistic about that."