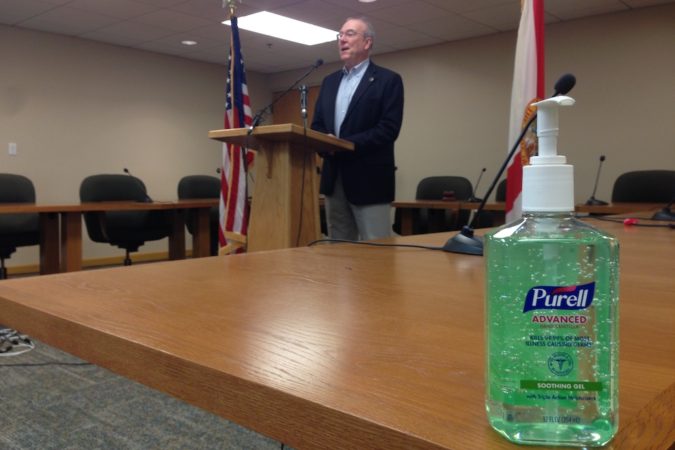 By Jeremy Morrison
While the COVID-19 coronavirus dominated Monday's city press conference, Pensacola City Administrator Keith Wilkins also announced a new hire, some promotions within the Pensacola Police Department, and encouraged people to ride their bikes.
" I rode mine 10 miles yesterday," Wilkins said, explaining that March is the state's dedicated month to celebrate bicycling.
Later this month, the administrator said, Mayor Robinson would be presenting a proclamation establishing March as the city's bike month as well. Conveniently, the city's Cicolvia event — where non-motorized, wheeled vehicles take over the urban core.
"Take time to explore the city on bicycle," Wilkins encouraged. "It's a whole different view, a different perspective."
Wilkins was holding down presser duties on Monday, as the mayor is away in Washington D.C. for a League of Cities event.
COVID-19
In addressing questions regarding COVID-19, Wilkins stressed that people should not overreact, but at the same time be prepared.
"The objective is to be prepared, but don't panic," he said.
"We've dealt with epidemics before, and pandemics before, with SARS, Zika, West Nile, Ebola, and there's no reason to think that this will be handled any differently than those," Wilkins said.
Insofar as any city response goes, Wilkins said that there was a continuity of operation plan in place. He compared it to other, non-health related events: "We are prepared to respond–just as we do with hurricanes, just as we did with the ransomeware attack, just as we do with a tornado or a flood. It's the same sort of approach to make sure we continue to safely deliver city services."
Additionally, the city is developing a plan to alter its services that entail interaction with the public, so that city workers can still complete their duties, but with a minimum of contact with anyone.
"What we can do electronically, we'll try to do electronically or telephonically," Wilkins said.
The administrator said that the city did not currently plan to cancel any of its planned events, but that it would be monitoring the ongoing developments surrounding COVID-19.
"We will, of course, proceed cautiously," he said.
The city administrator also advised against relying too heavily on hand sanitizer — "The antibacterial liquids kill bacteria, and this is a virus" — and provided a hotline number that the Florida Department of Health has dedicated to addressing COVID-19 questions and concerns. That number 1-866-779-6121.
New Capital Improvements Manager
Wilkins also announced Monday the hiring of David Forte as the city's new capital improvement projects manager. The position is responsible for managing construction and capital projects in the city.
Forte, who started work on Monday, comes from Escambia County, where he served as division manager for the transportation and traffic program. He also previously served the county as an urban planner.
Forte is the most recent in a parade of hires that Mayor Robinson — who was formerly a county commissioner — has brought over from Escambia. Wilkins, who also use to work at Escambia County, said he looked forward to serving with Forte again.
"He's very well rounded, very well respected in the community, and we're happy to have him," Wilkins said.