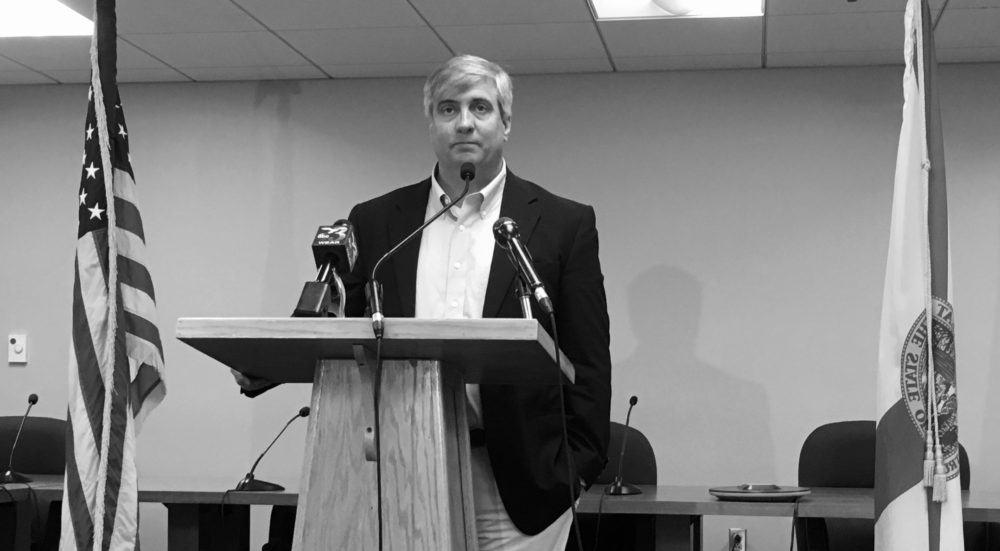 By Jeremy Morrison, Inweekly
After spending some time in Washington D.C. and New York City last week, Pensacola Mayor Grover Robinson had plenty to share during his weekly press conference Monday morning. In addition to relaying his tales of travels, which included visiting planners currently working on downtown waterfront projects, he provided details about the fielding of key city positions and efforts to address the needs of Pensacola's homeless community.
What Grover Learned on Vacation
Last week, Mayor Robinson trekked to D.C. with City Administrator Chris Holley. They spoke with local legislators, thanked them for supporting efforts to land ST Engineering and the associated aviation facilities. Then they met with the offices of Florida Senators Marco Rubio and Rick Scott, and had the opportunity to have breakfast with South Carolina Sen. Lindsay Graham.
From there, Robinson continued to New York, where he met with planners from SCAPE. The firm is working on a project for Pensacola aimed at making the city's downtown waterfront more walkable and continuous.
The mayor got a peek at SCAPE's work thus far, which focuses mainly on the area running from the three mile bridge to Joe Patti's Seafood, the section of the planning study being privately funded by area businessman Quint Studer. The waterfront stretch continuing to the west, from Joe Patti's to the Pensacola Yacht Club, is being funded by the city, and because that section was an afterthought the firm has not gotten very far into its associated planning.
"I think they're moving in the right direction," Robinson said.
The mayor said he didn't want to spoil SCAPE's presentation of the potential plans when the firm returns for public input sessions in April, but did say the planners were honing in on Bruce Beach, which they saw as a possible community hub; connecting Bruce Beach with the rest of the downtown waterfront is key, the planners say.
"We have Plaza DeLuna, we have the Maritime Park, we have Bartram Park and the waterfront along the bay front, and we also have Bruce Beach, but these aren't very well connected and how we shape the experience for the community to connect these things and be able to walk everything together is one of the things that we talked about," Robinson said. "I think that's going to come through in what they end up presenting to us."
While in New York, the mayor hiked the High Line with Studer employees D.C. Reeves and Andrew Rothfeder. The trail is created on a retired railroad line, and Robinson wanted to get a better idea of what a "linear park" could be as SCAPE plans for Pensacola's own such linear park along the bay. 
"It was good to see what was there," Robinson said, "someone who had done a linear park and what it looked like."
The mayor also visited the Harbor School on Governors Island, which offers maritime-related instruction in a public school environment. The recently released mayoral transition team report recommended potentially utilizing Pensacola's port for such purposes, possibly partnering with area academic organizations.
In addition to meeting with SCAPE, Robinson also met with architects from DPZ, who are working on a separate (but somewhat overlapping) masterplan for some open parcels at Maritime Park, as well as 19-acres across Main Street owned by Studer, who is also responsible for this masterplanning process. He previewed plans that call for parking wrapped with a mixed-use brew of retail and residential.
"Sort of like you see with Southtowne," the mayor said, referencing a recent Studer development downtown.
Robinson said he will be sharing the city's waterfront plans this weekend with other municipal leaders when he travels to the Mayors' Institute on City Design in Charleston, S.C. Jeff Speck, a planner with DPZ, recommended the event to the mayor.
"I'm looking to see what they say about our waterfront park and the assets that we have there and what we need to be looking at," Robinson said, explaining that he hoped to learn from his counterparts as they detailed they're own municipal planning experiences: "We each make presentations and kind of critique and learn from what's there and what other communities are doing."
Tiptoeing Around Gentrification
When DPZ reveals the masterplan it is working on for the Maritime Park parcels and the neighboring 19 acres on Main Street, Mayor Robinson is expecting to see a push for more residential units downtown.
"As we move forward, I think that's what you're going to see," he said.
As the area west of downtown's core receives increased attention from developers, the mayor stressed that the city would need to safeguard against gentrification and ensure that an affordable stock of housing remained in the area. He expects such a stipulation will also be among DPZ's masterplan details.
Robinson said he isn't sure how best to ensure a certain percentage of housing remains affordable in the area.
"Those are things everyone is still struggling to work with, but it's one of those things that we're working on," he said.
One possible idea, Robinson said, crediting it to Escambia County Commissioner Lumon May, is to use property that has fallen into the county's ownership due to unpaid property taxes as sites to build such affordable housing.
"I know that's what Commissioner May has been wanting to do, and I've been trying to figure out a way to roll that out as well," Robinson said, adding that the plan would essentially involve "giving the land away" to be developed as affordable housing.
Staffing Detail
Mayor Robinson is currently looking to fill a number of positions within the city. Some currently sit empty, some are new, and others will open up as current employees retire out. The mayor detailed the progress being made on the staffing front in regards to a few positions.
"We've got a lot of decisions we have to start making and we'll be making them over the next couple of weeks," Robinson said.
The city has already collected pools of applicants for both its assistant city administrator position, as well as public information officer. The administrator position has 119 applicants, while the PIO slot has a pool of 36 qualified candidates. An executive committee, consisting of administration officials, including Holley, will assess the applicants and present the mayor with a slimmed down list.
"We'll propose a half dozen, let the mayor look at them and go from there," Holley said.
The city is also seeking someone to oversee its Complete Streets efforts, someone who can help the city become more pedestrian friendly, more walkable. Robinson said that there is some debate about whether to go after someone with a planning background or an engineering background.
"The challenge of those people who have been advocates of biking and cycling indicate that usually they have not had as much success from engineers as they have from the planning side. Engineers, again, the general design is 'how can I move this thing as fast as possible,'" the mayor said. "Sometimes multimodal has not been as much of a priority for them as cars."
Robinson also addressed a question regarding political chatter in the community that speculates the Complete Streets position was promised to Drew Buchanan during last year's campaign season in exchange for Buchanan backing Robinson's candidacy after he pulled out of the mayoral race himself. Buchanan oversaw Walkability and traffic concerns on Robinson's transition team.
The mayor said that, no, he never had any such conversation with Buchanan. He had heard the rumor though.
"We didn't even have a Complete Streets position when we talked about it, when I was on the campaign," the mayor said. "So, I mean — I laughed, I said, 'we heard some of that.' I said, 'I thought it was suppose to be the PIO, because we didn't even have this.'"
But, he continued, Buchanan is welcome to apply for the job, as is anyone else.
"If Drew applies for it, he's welcome to apply for it. We're not telling anybody they can or can't apply for anything," the mayor said. "We'll evaluate him along with everyone else that comes in."
Robinson said that he had yet to determine the exact process of selecting the Complete Streets candidate. The position might not go through the same executive-committee process as other city hires.
"We haven't discussed how that one would go," Robinson said. "I think Chris and the executive team are a little bit more comfortable with the positions they understand, like the PIO or assistant city administrator, a position that's a little bit newer to us, we may need to reach out and have something else."
The mayor also spoke a bit Monday about the city's practice of hiring contract employees. With the exception of the positions of city administrator and city attorney, the mayor plans to wind down the practice of hiring contract employees.
"It was sort of a culture that we inherited, and we are moving to really change that culture," Robinson said.
Recently, the city's HR director left with a 90-day severance. The mayor spoke briefly during the press conference about the city's decision to go with the 90-day package, as oppose to a 30 day option; both durations were listed in the employee's contract.
Robinson said that he had felt the contract specified 30 days, but that after consulting Holley and City Attorney Susan Woolf he found they had "a little bit different read."
"When I talked with Chris and Susan, they didn't see it as we had any option outside of that," the mayor said of the 90-day severance.