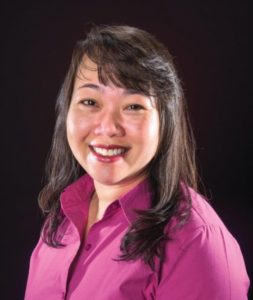 Pensacola State College Visual Arts Instructor Linh O'Briant recently received a Merit Award in the 2015 SEGD Global Design Awards program.
O'Briant's recognition from the Society for Experiential Graphic Design was for her participation in a group project that used discarded steel office frames to design and construct a structure that not only served as disaster relief housing but also as a micro pavilion to house an art installation.
The structure demonstrated the potential of repurposing discarded steel office frames that would normally enter the waste system and landfills.
According to the awards jury comments, "This project succeeds on many levels. The repurposed material makes a strong environmental and social statement while at the same time providing a space for a temporary art installation."
O'Briant says the year-long project was a collaborative effort for graduate students in graphic design and architecture at the University of Houston. Among 336 entries, 33 projects were selected to receive an award and only four of these were student projects.
Before joining the PSC Visual Arts Department faculty in January, O'Briant taught graphic design courses at the University of Houston, ITT Technical Institute, and the University of South Alabama.
Her professional experience as a graphic designer and art director includes Dillard's Department Store, Visual Impact Communications Inc., and Crown Products, as well as her own company, LNO Design. Her work has been exhibited at museums in Houston and Mobile.
O'Briant received a bachelor of fine arts degree from the University of South Alabama and a master of fine arts degree from the University of Houston.