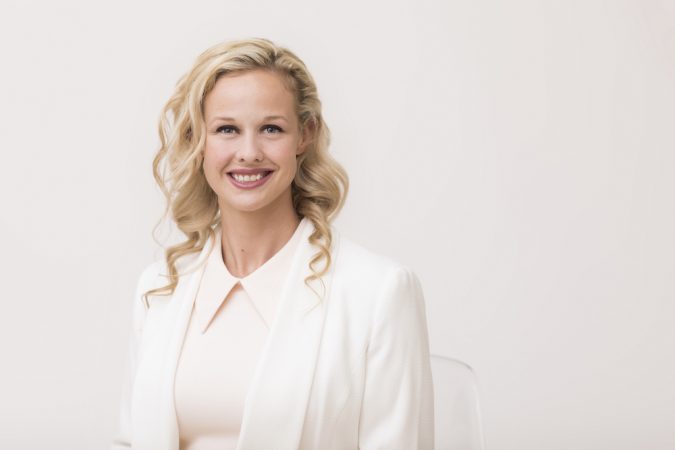 Rebekah Jones has moved her family to Pensacola in preparation to challenge incumbent Rep. Matt Gaetz in Florida's First Congressional District. She made her local debut this morning on NewsTalk 1370 WCOA's "Real News with Rick Outzen."
"I'm taking on Matt Gaetz and corruption here on the 1st," said Jones. She expects Gaetz, Gov. Ron DeSantis and their supporters to come at her hard.
"There really can't be anything worse than what they've already thrown at me, and none of it sticks because people are not stupid," said the data scientist that created Florida's COVID-19 Dashboard. "The people here aren't gullible. They take one look at that stuff and say, 'That's ridiculous. That's not true.' And I think that Gaetz and the others, they hate that. They hate that people can be independent thinkers and that people can see through it."
She added, "And so I'm still standing, and I'm going to take Gaetz down."
As the architect of Florida's widely praised COVID-19 dashboard, Jones said she probably asked her bosses 50 times to build a data and information portal internally and separately, one for the public—"so that they could know at least what we were doing to prepare."
Permission to do the dashboard didn't come until Gov. DeSantis declared a state of emergency in March 2020. Most of the framework had been done, so Jones was able to get it up in two hours.
"I remember the Monday after, I was sitting in the State Emergency Response Center, working with our communications team," Jones said. "And the right in the room next to me, DeSantis announced that it was going to be the face of our response."
She continued, "No one gave me the heads up. Oh man, that was intimidating and terrifying, but I committed myself to making sure that people got the most accurate information as often and as clearly as I was able to provide it, and it did get quite a bit of praise, not just by Donald Trump's White House task force, but Surgeon General Scott Rivkees made comments to the press about how proud he was of that work."
The work environment changed in late April when Gov. DeSantis wanted to reopen the state. Jones was told to develop a set of criteria to determine whether or not each county is ready to reopen. She and her co-workers then needed to develop a way to measure it and present the data to the public.
Jones said, "I was working with epidemiologists there who were amazing; the data person who was my counterpart in EPI is incredible. I didn't sleep, but by a miracle … I don't think they did either … we got it done."
The metrics were based on the White House requirements for reopening but tailored to meet Florida's few restrictions. According to Jones, few counties qualified to reopen. DeSantis and his political staff were pleased and began to ask her to change things.
She said of DeSantis' staff, "They're appointees, so they are not people who are experts in this, but they were, for some reason, the ones that were making the decisions about it after our team worked using the actual data that we used every single day and knew better than anybody. They got to just override us."
Jones continued, "There came a point where—there were several emails that had been made public since then—I'm expressing concern that we're being asked to change this or change that, where they just got frustrated that after all of their little changes, the list of counties that could reopen did not reflect what was in their plan."
Jones was fired May 18, 2020, and her life became fodder for DeSantis and his supporters.
"I never wanted to be a public person," said Jones. "I actually begged the first reporter who wrote about me to take the story down because that's not what I wanted for my life. I just wanted to work in emergency response and help people. That's all I've ever wanted."
She continued, "And that path in life that I had spent my advanced education on and my career on was just erased like it never existed because of DeSantis. And it was cruel, and everything he was saying was untrue."
Jones went on to create an alternative COVID dashboard that covered several states. She said, "I started creating a dashboard that I was never allowed to do at DOH, like including the hospitalization data, which seems like a no-brainer."
She started tracking how COVID was impacting schools nationally. Jones added, "
I have two small children, so I felt like, as a parent, I was entitled to know what was happening at my child's school. And eventually, we pressured 26 states into reporting school's data, including Florida."
Late last year, Forbes named Jones its Technology Person of the Year for creating her alternative dashboards.
In December, the Florida Department of Law Enforcement raided her home. She was later charged with illegally breaching state systems and sending a message to state employees telling them to "speak out."
What has happened with the case? Jones said, "It basically nothing has happened with it. They just keep taking it down the road as if they're just holding it over my head."
She decided to run for Congress: "I tried to stay apolitical as much as possible until Ron DeSantis sent state police to my house with guns, who pointed them in my face and at my small children."
Jones has moved to Pensacola Beach, and she announced that she plans to run as Democrat but hasn't filed yet.
"After the news broke about Matt Gaetz's sex trafficking investigation, I thought this is a man who does not belong as a representative voting on laws that have to do with his criminal activity," she said. "I mean, he was the sole no-vote to increase funding for ending human trafficking in all of Congress. Every Republican except for him voted for it."
Jones also disappointed with Rep. Gaetz's reaction to the COVID pandemic.
"When he was mocking COVID walking around the halls of Congress, I was in the State Emergency Response Center trying to spend 18-hour days keeping the people of Florida informed," she said. "And it's an insult to every person that's spent those hours away from their family, away from their kids, trying to tell people what was going on so that they could make informed decisions."