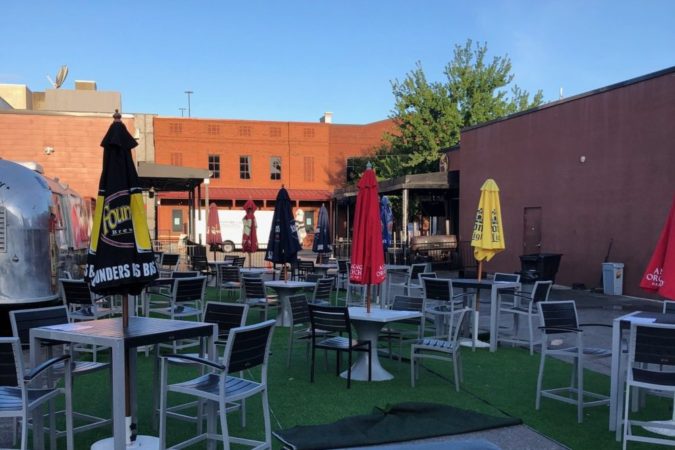 Area restaurants have adapted to COVID-19 Phase One – adding outdoor seating and modifying dine-in table arrangements. Some are taking the guidelines, while others wait to see if anyone will stop from doing what they want.
The News Service of Florida reported that Florida Department of Business and Professional Regulation Secretary Halsey Beshears on Friday advised restaurant owners to use as much outdoor space as possible under federal Centers for Disease Control and Prevention physical-distancing recommendations.
"I want to be real clear about that, and this is how we're going to regulate this: You know, if you have outdoor seating, there is no (maximum)  occupancy," Beshears told members of the Orange County Economic Recovery Task Force's Business Work Group during a teleconference.
"There is no (maximum) number of patrons you can have out there," Beshears continued. "So, if that outside seating area can seat 100 people, then you can seat 100 people as long as you can practice those social distancing guidelines."
To help, Beshears said his agency will only count customers in indoor occupancy numbers.
"If it takes 12 people, right, to run the restaurant period and a 25 percent occupancy means you can only have 13 more patrons, you know, it just doesn't even make sense to open the door," Beshears said. "So, that's the way we're going to read it for now, and we'll see how that works, and hopefully that can help out a little bit."
Beshears added, "Let's not overthink it and realize it's just a short-term solution. You will not be losing your liquor license from us for doing that right now in trying to get people seated outside."
The secretary told restaurant owners to look to city and county officials for direction.
Escambia County has given no direction.  Pensacola Mayor Grover Robinson said at his Monday presser that the city was working with the Downtown Improvement Board to work out the details to a plan that involves closing Palafox Pl. to vehicular traffic and allowing businesses to make use of the sidewalks.
We expect a hodgepodge on how restaurants implement the guidelines.
---

Largest Outdoor Restaurant in NW Florida
The Pensacola Blue Wahoos have turned Blue Wahoos Stadium into the largest outdoor restaurant in Northwest Florida.
Starting yesterday, Blue Wahoos Stadium opened for lunch (Mon-Thu, 11 AM-3 PM), dinner (Wed-Sat, 4 PM-8 PM), and brunch (Sun, 10 AM-2 PM).  Patrons enjoyed enjoy the ballpark with its spectacular view of Pensacola Bay from seating set up on the third base concourse, in the Hancock Whitney Club, and in the Dignity Memorial Party Deck.
Fans interested in visiting Blue Wahoos Stadium for lunch can order in person from the Blue Wahoos Stadium Curbside Pick-Up location outside the ballpark on the third base side or by calling in advance at (850) 934-8444 ext. 451. Food will be delivered to the customer at the Curbside Pick-Up location. Once the food has been delivered, customers are welcome to enter the main gates at Blue Wahoos Stadium to eat inside the ballpark. Click here to view the curbside pick-up menu.
The main gates at Blue Wahoos Stadium will open at 4 PM on Wednesday through Saturday for the new Stadium Dinner Experience. Customers will enter through the main gate and order their meals at the third base concession. After ordering, customers will be invited to sit at tables spaced along the third base concourse, in the Hancock Whitney Club, or in the Dignity Memorial Party Deck. Blue Wahoos staff will deliver food directly to the customer's table. The full curbside dinner menu will be available at dinner, including the chef's specialty family-sized dinner option. Click here to view the dinner menu.
During the Stadium Dinner Experience, the Blue Wahoos will provide entertainment on the stadium's video board including replays of past Blue Wahoos games and in-stadium music!
---
Jury Trials Suspended Two More Months
Florida Supreme Court Chief Justice Charles Canady issued an order Monday suspending jury trials through July 2 and directing courts to hold other types of proceedings by telephone or video conference. Trying to prevent the spread of COVID-19 at courthouses, Canady had earlier suspended jury trials, jury selection and grand-jury proceedings through May 29.
Along with extending the suspension, Canady's order directed that proceedings such as non-jury trials, motion hearings, juvenile-delinquency hearings and hearings in non-criminal traffic infraction cases be held by telephone or videoconference. The order would allow circuit chief judges to decide whether holding such proceedings remotely would be barred legally or would not be feasible for technology reasons.
As in earlier orders, Canady also wrote that circuit and county courts "shall continue to perform essential court proceedings," such as first-appearance hearings in criminal cases, bail hearings for people in jail and hearings to determine whether people should be involuntarily committed under the Baker Act.
"No proceedings or other court events other than essential proceedings and proceedings critical to the state of emergency or the public health emergency shall be conducted through in-person hearings," Canady wrote.
He also added, "In conducting essential proceedings and proceedings critical to the state of emergency or the public health emergency, circuit and county courts shall employ all methods feasible to minimize risk of COVID-19 exposure to individuals involved in the proceedings or the general public."
The Supreme Court, meanwhile, is slated Wednesday to hold oral arguments by video conference for the first time.
source: The News Service of Florida
---
Burger King, Pizza Hut Hiring 250 Positions
GPS Hospitality seeks to hire managers, crew members and Pizza Hut delivery drivers at its Burger King and Pizza Hut locations throughout southern and coastal Alabama and Pensacola. GPS Hospitality is hiring nationwide at all GPS restaurants throughout 13 states with openings for full and part time positions including managers, team members and Pizza Hut drivers to join the team immediately. The search for applicants is taking place digitally via online applications and video interviews.
For those looking for their first job or an entry-level position, GPS offers quality training, flexible hours and ample opportunities for growth. After one year of full-time employment, ALL team members are eligible for accrued paid vacation time.
Management level employees at GPS are also eligible to receive performance-driven monetary bonuses, benefits and other perks.
WHO:                  Motivated applicants who want to join a fast growing Burger King and Pizza Hut franchisee.
WHEN:               Recruitment is ongoing. Video interviews will be scheduled with qualifying applicants.
WHERE:              Applicants can text 'GPS' to 37872 or visit www.WorkForGPS.com to view GPS restaurant locations, open positions and apply online.
GPS Hospitality has locations in Bay Minette, Dothan, Fairhope, Foley, Grove Hill, Gulf Shores, Loxley, Mobile, Pensacola, Saraland and Theodore.
---
The May 4 County Surveillance Reports showed weekly Emergency Department (ED) visits increased last week for flu-like illness and COVID-19-like illness. The visits had been flat for two weeks.