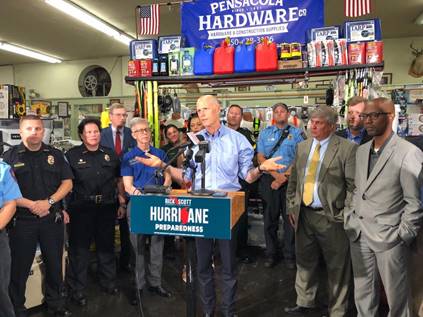 By Danielle Brown
As hurricane season begins, U.S. Sen. Rick Scott and city and county officials urge residents to be prepared in a press conference at Pensacola Hardware.
Red Cross, Small Business Administration and U.S. Department of Housing and Urban Development representatives spoke at the conference and echoed the senator's simple message to "get ready."
"Don't take a chance that something happens to your family," Scott said.
He also encouraged residents to take advantage of the sales tax holiday from May 31 to June 6 when purchasing their supplies.
Pensacola Hardware is the oldest store in the county with over 150 years running and can provide a checklist of Hurricane preparedness essentials in-store.
Scott said $1.2 billion from a disaster aid bill passed through the Senate on Thursday would go towards rebuilding Tyndall Air Force Base, which sustained extensive damage from Hurricane Michael. 
---
Editor's note: The U.S. Senate passed the bipartisan relief bill but the House on Friday failed to pass the measure when Rep. Chip Roy, R-Texas, objected, saying the bill didn't address the humanitarian crisis at the U.S.-Mexico border.