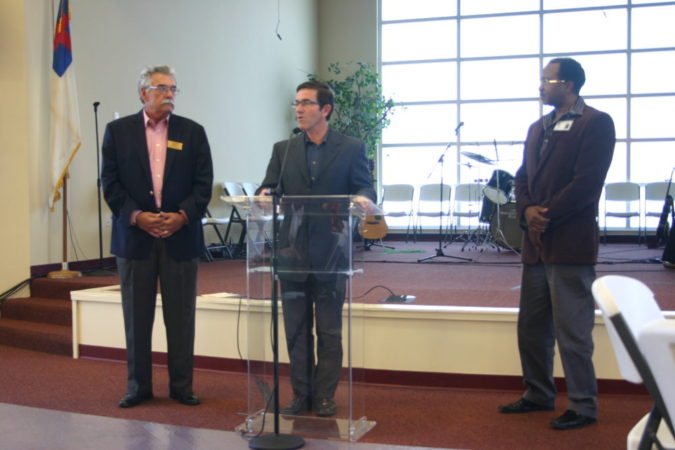 This press announcement was sent out late Friday afternoon:
Pensacola City Councilman Brian Spencer today announced his candidacy for mayor of Pensacola. First elected to City Council in November 2010, Spencer is serving the second of two consecutive four-year terms, which includes one year as council president. During his tenure Spencer has helped promote waterfront redevelopment including the Vince J. Whibbs, Sr. Community Maritime Park and redevelopment within Pensacola's Community Redevelopment Agency (CRA) district. He has vigorously pursued solutions for addressing some of Pensacola's most pressing challenges.
An architect and entrepreneur, Spencer is a lifelong area resident who has earned a reputation for creating and inspiring new uses for deteriorating and underutilized buildings. He has leveraged his education and experience to introduce vibrancy and economic vitality into formerly declining or underappreciated neighborhoods and streets of Pensacola. He is an avid proponent for seeking out, learning from and implementing key elements that are present in successful cities.
As an early supporter of the Mayor-Council form of government, Spencer is eager to collaborate with City Council to optimize the positive opportunities it engenders. "I have a deep respect for my colleagues who serve on City Council and know we'll succeed through a shared focus," he said. He also believes it's crucial to dedicate time to engage with and support city staff. "My goal is to put in the sweat equity required to be available to council members and city staff when they need me."
Spencer says a top priority will be advocating for local neighborhoods, some of Pensacola's greatest assets. "I support the guardianship of our local neighborhoods and am in lock-step with the citizens who work hard to protect, sustain and revitalize them," he says. His past record reflects the importance he places on best practices that inject economic stability and safety, while maintaining the unique culture, authenticity and character that define area neighborhoods.
"Pensacola has always been my home," said Spencer, "And my decision to seek the office of mayor reflects my passion and dedication to our city and my steadfast commitment to the citizens and diverse neighborhoods of Pensacola."
###
Bio / Brian Spencer
Brian Spencer, a graduate of Duke University and Tulane School of Architecture, is a lifelong resident of the Pensacola area. He and his wife, Crystal, live and work downtown and are involved in a number of local civic and charitable causes.