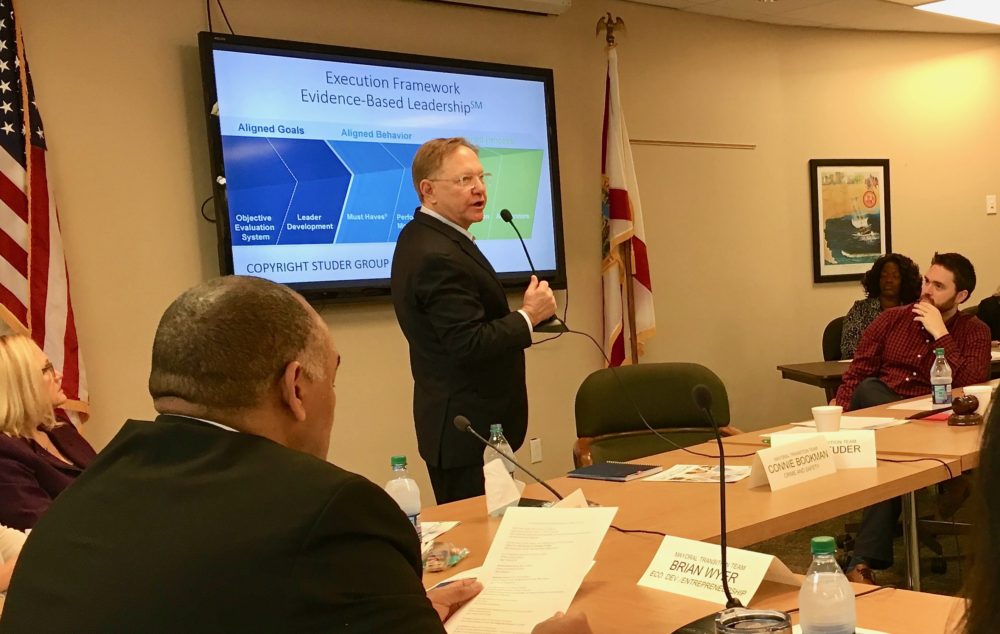 by Jeremy Morrison, Inweekly
As they prepare to plow into a month full of public input sessions, members of Pensacola Mayor Grover Robinson's transition team were given some advice Thursday concerning their eventual reports and recommendations. The team's chairman, Quint Studer, urged members to prioritize their recommendations to the mayor and also keep in mind the city's fiscal and logistical realities.
"Let's be realistic, let's understand we have a finite amount of resources," Studer told the team.
By March, team members — each tasked with assessing a particular aspect of city operations — will have handed the mayor their reports and recommendations for improving various fronts of the municipal landscape. Studer laid out a few points of guidance as the team worked toward these reports.
The chairman asked the members not to "get caught carrying other people's messages" and to "be sensitive to generalities."
Studer also leaned on his experience as a corporate consultant and gave the team a tutorial regarding how each member should be approaching their respective assignments. Laying out the highlights from a Studer Group's Evidence Based Leadership slide, he said they should focus on identifying clear goals and an effective process by which to obtain them.
Also on Thursday: the transition team heard from the Pensacola Young Professionals, members of which went over the results of the group's annual quality of life survey for the area; Trudi Nichols, with the city's Technology Resources Department, walked the team through its new website; individual members offered reports that largely reflected the slow-down of the holidays and the packed calendar ahead, when many have multiple public input sessions scheduled.
Bruce Vredenburg, who is assessing the city's financials, has scheduled five different public input sessions, each focusing on a different aspect of city finances. Thursday, he expressed concerns looking ahead to the sessions that the events may need to be longer than currently scheduled.
"I'm a little concerned about the depth of work we'll be able to get done," Vredenburg said.
Studer told Vredenburg to kick the sessions up from one hour to two.
Also, Michelle Salzman, who is exploring the city's relationship with community education efforts, reported that she had been meeting with a number of community organization and some members of city staff. In particular she spoke about the city's parks and recreation department, where she felt better marketing and awareness could help educate the community about positive offerings already afoot.
"A lot of the stuff they're doing isn't being communicated very well," Salzman said. "It's not that they're not doing these great things that we're talking about."
Check transitionpensacola.com for the meeting schedule.