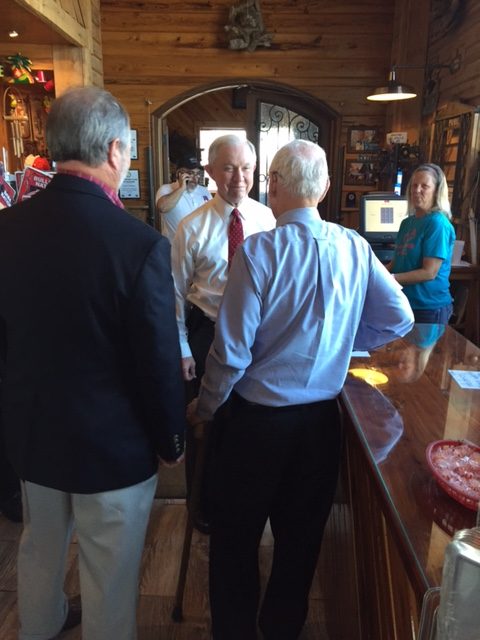 By Duwayne Escobedo
Ever since George W. Bush won Florida by a razor thin margin in the 2000 election, Republicans believe Northwest Florida must not be overlooked in the presidential race.
Republicans outnumber Democrats more than 2-1 in the region and voters pride themselves on being conservative.
That's why Republican presidential nominee Donald Trump's sole U.S. Senate endorser, Alabama's Jeff Sessions, rolled through the Florida Panhandle Tuesday to stump for Trump.
Over sweet tea and barbecue at East River Smokehouse Bar-B-Que with a week left before Election Day, Sessions lobbied Navarre residents to vote for Trump. About 20 people greeted Sessions at the restaurant on U.S. Highway 98 along the Gulf Coast.
Sessions came to Florida after speaking for Trump in Nevada the day before. The junior Alabama senator, who was elected in 1996, has also been to Colorado, Iowa, North Carolina and Pennsylvania to represent Trump.
Sessions said the last Republican presidential nominee, Mitt Romney, performed "below expectations" in Northwest Florida despite winning 60-75 percent of the popular vote in the region's biggest counties in 2012.
"It affected the outcome of the election," said Sessions of Romney who lost Florida's popular vote and its 29 electoral votes by 0.88 percent to President Barack Obama. "I don't think that will happen this time."
Sessions visit comes a day before Trump campaigns in Pensacola for the third time. He has twice packed the 10,000-seat Pensacola Bay Center and this time is speaking at the amphitheatre at the Community Maritime Park behind Blue Wahoos Stadium.
"There's a gulf between the policies of Trump and Clinton," said the 70-year-old Sessions, who looked weary from his travels.
Sessions said Trump planned to increase the number of Naval vessels from 280 to 350, modernize the U.S. Air Force and increase the number of recruits to the U.S. Marines and U.S. Army. He said Trump also plans to end caps on spending on the military.
"He's not a normal politician," Sessions said. "He never practiced to be one. Hillary Clinton has an answer for everything. Donald Trump is a man of action and results. He's not a talker."
Sessions admits that Trump has made his share of gaffes but points out that Trump is now neck-and-neck with Clinton, according to recent polls.
"Yes, he has misspoken a few times during this campaign," Sessions said. "It does appear in recent weeks he has focused on the issues. Every day the numbers are moving his way."
While Trump creates problems for himself with what he tweets, Session said Clinton has a problem with her emails, pointing out Wikileaks release of the Democratic nominee's emails.
"It's the same false statements and misleading information that has plagued the Clinton history all through the 1990s," Sessions said.
He also suggested Clinton plans to allow 60,000 Syrian refugees into the United States annually, instead of the 10,000 he said Obama lets in every year.
"This may be the last chance the American people have to make sure their political leaders follow a lawful immigration system," he said.