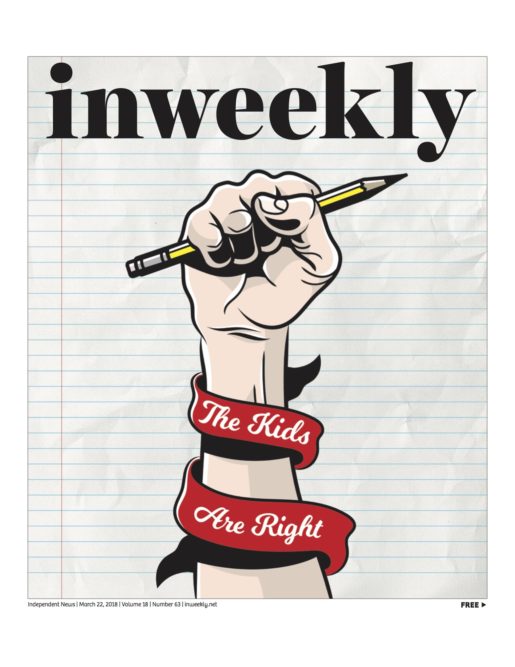 Escambia County Commissioner Doug Underhill took to Facebook on Saturday morning to announce his disapproval of the March for Our Lives teens.
He wrote, "Good morning to all you marchers. You are wrong. My gun is not your problem, and my rights are not your business. Your fears and your hate are a very real danger to our Constitution. You are literally spending your Saturday demanding the government take away your rights. Pathetic."
The March of Our Lives occurred all over the nation as a call to action for gun reforms. Included in the local marchers was Elyssa Goldman, who was the camp counselor for Alyssa Alhadeff, age 14, one of the 17 victims of the Parkland shooting.
"I went to a 14-year-old's funeral," Goldman told Inweekly. Read "The Kids are Right."
Saturday night, Clark Partington attorney Scott Remington shared a news story that featured Emma Gonzalez, a Marjory Stoneman Douglas High School senior.
Underhill commented, "Pathetically misled children. Teach them civics….and take them to the range and teach them how to exercise their Constitutional RESPONSIBILITY to be armed, trained, and disciplined."
The commissioner wasn't finished. Sunday morning shared a meme by The Wilkow Majority that attacked Gonzalez for wearing a Cuban flag on her jacket.
"Isn't she a cute little insurgent!" wrote Underhill.
When someone defended her right to express her opinion under the First Amendment, Underhill wrote, "And I am free to call her an uninformed miscreant and threat to our nation."
Emma Gonzalez's parents fled Communist Cuba in 1968. Her mother is a math tutor and her father is a cybersecurity attorney.