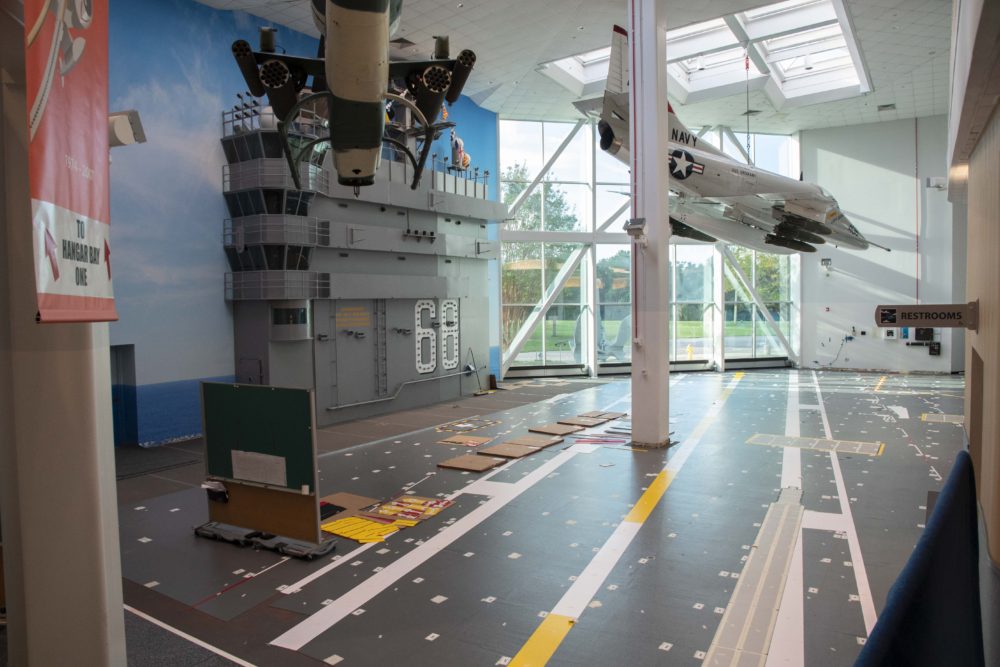 Pensacola, Fla. – (September 28, 2018) – The National Naval Aviation Museum will soon welcome museum visitors with a custom-designed replica flight deck of the USS Nimitz. The 8,800-square-foot, vinyl-tile flooring will be featured along the east side of the museum lobby – a tribute to the nuclear-powered aircraft carrier and lead ship of her class.
The 200-foot flight deck replica will be comprised of more than 600, 3-foot-by-3-foot tiles and more than 1,000 individual pieces in various colors that match the real-life markings on the supercarrier ship. Nimitz's catapults, arresting gear, jet blast deflectors, hatches and hundreds of aircraft padeyes are all represented by various shades of gray.
As one of the largest-scale representations of an aircraft carrier flight deck in the world, visitors will see what it's like to walk across the flight deck of one of America's most recognizable symbols of peacekeeping machinery.
"We are very excited to add this impressive exhibit to the Museum," said retired Navy Capt. Sterling Gilliam, museum director. "It will allow us to tell the exciting story of what young men and women are doing on Nimitz-class flight decks around the globe today in support of our nation's defense."
The unique flooring material by Tandus Centiva, a Tarkett company, is manufactured in Florence, Alabama. The same type of flooring, with graphic design cut into each tile, can also be found in the entrance lobby of the Empire State Building in New York. Using detailed drawings produced by the museum graphics department, Tandus Centiva graphic designers produced a CAD drawing to fit the carrier deck into the exact, laser-measured space in the museum.
A proprietary, ultrasonic cutting process at the mill in Alabama cut each piece of flooring to create a giant jigsaw puzzle of sorts. Once on sight, Carpet Creations, a Pensacola flooring contractor, assembled the tiles over a special underlayment that protects the terrazzo subsurface.