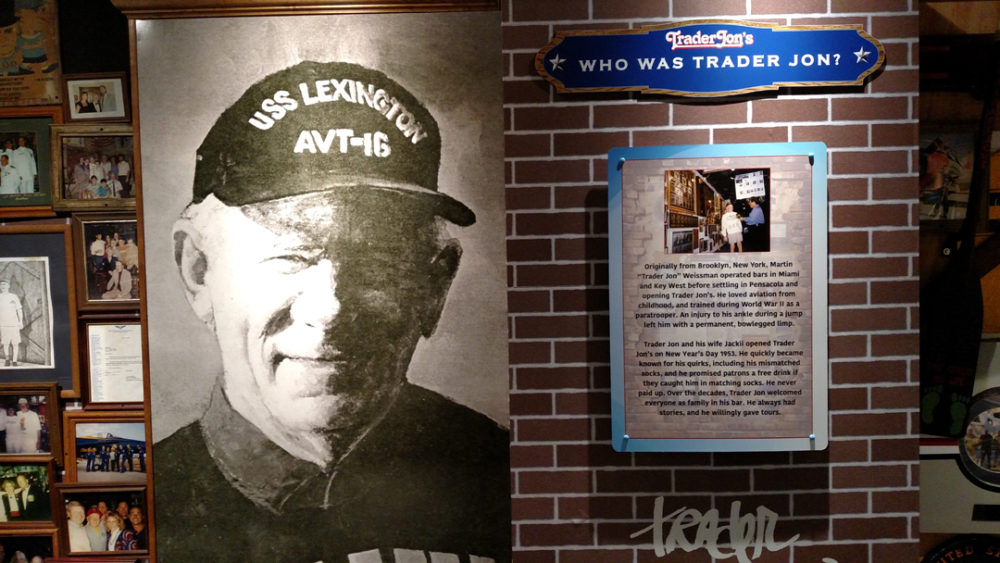 PENSACOLA, FLA.: Beloved by generations of Pensacolians and Naval aviators alike, a new replica exhibit on the second floor of the T.T. Wentworth, Jr. Florida State Museum in Downtown Pensacola has been created to pay tribute to the late Martin "Trader Jon" Weissman and his famous Pensacola tavern.
For nearly five decades, Trader Jon's was the watering hole of choice for U.S. Navy pilots stationed at Naval Air Station Pensacola.
Opened in 1953 at 511 South Palafox Street, Trader Jon's was widely known for the endearing eccentricities of its owner, Weissman, with his trademark mismatched socks, who often exchanged drinks for bits of Navy memorabilia, living up to his "Trader" moniker.
Year after year, Weissman amassed a massive collection of military and aviation items — including signs, artifacts, photographs and relics — that came to occupy every nook and cranny.
The memorabilia may have helped lure celebrities like John Wayne, Elizabeth Taylor, Prince Andrew and Bob Hope into the tourist hot spot, but the owner is what kept everyone returning to the old brick building on South Palafox.
Weissman suffered a debilitating stroke in 1997 and died 2.5 years later in 2000. He was buried with full military honors at Fort Barrancas National Cemetery. The Blue Angels paid their respects with a flyby during his service.
In October 2016, the University of West Florida Historic Trust paid tribute to Weissman and Trader Jon's with an exhibit at the Wentworth Museum, which mirrors the original bar as closely as possible.
Visitors enter the exhibit to find an almost mirror-image of the original bar, with the same model airplanes that once hung from the bar's ceiling, flight suits and framed photos of Hollywood and local celebrities. Like the original, thousands of historic memorabilia and artifacts line the walls of the exhibit. There is also a miniaturized re-creation of the Blue Angels Museum room.
The only two things missing from the exhibit are the booze and Trader Jon himself, however a video featuring recordings of Weissman is on display and there are plenty of new watering holes to choose from nearby.
"Response to the exhibit has been overwhelming, especially among military personnel, many of whom have expressed interest in group tours and reunion gatherings," says Robert J. Overton, Jr., executive director of the UWF Historic Trust. "These people are a real part of the Trader Jon's story as well, so it is our pleasure to offer the exhibit space for groups to reconnect, relive cherished memories and create new experiences."