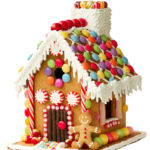 After almost a month of a beautiful gingerbread display in downtown Pensacola, the first SOGO Gingerbread House Contest is coming to an end, but not before you have the chance to vote on your favorite.
During the gingerbread display, holiday shoppers have been voting for their favorite gingerbread houses, but that opportunity is almost over. People's Choice and Fan Favorite voting will end Tuesday, December 16, at noon.
"We have had such an incredible turnout for the fan favorite voting," says project manager, Daniel Pennington. "It will take at least a day just to count out all the tickets."
The Fan Favorite voting has raised over $800 in ticket sales. All the proceeds will go to benefit the Health and Hope Clinic, a not-for-profit organization that provides health care services to the uninsured in our community.
Tickets, being sold at 25 cents a piece, means there are over 3,200 votes out there among the 45 gingerbread houses. With that many votes, it's anybody's guess who will be the People's Choice and Fan Favorite winners. The two winners will receive prizes of $500 and $1,000.
"There is still time to go vote for your favorite gingerbread houses," says Pennington. "The houses are on display in Don Alans, Fiore of Pensacola, Mainline Art House, McAlpin Interiors, Pure Pilates, Shux Oyster Bar, So Gourmet, and Susan Campbell Jewelry."
The idea for the SOGO Gingerbread House Contest came about after contest sponsors, Quint and Rishy Studer, visited the 2013 National Gingerbread House Competition while traveling in Asheville, North Carolina.
Along with Fan Favorite, a panel of seven judges made their rounds, selecting the winners for the child, teen, and adult categories. The contest judges included Julio Diaz, Angela Johnson, Donna Kirby, Brent Lane, Teri Levin, Brian Spencer, and Lonnie D. Wesley, III.
All winners of the 2014 SOGO Gingerbread House Contest will be announced at an awards ceremony Wednesday, December 17, 2014.