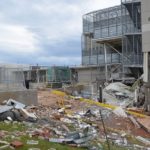 Did the lack of oversight set up the situation where the Escambia Central Booking and Detention Center exploded? An AP article published yesterday by the Bradenton Herald raised that question.
County jail inmates across the nation are among the most vulnerable in natural disasters because there is little oversight of jails beyond local elected officials. Budgets are tight, spending on jails is politically unpopular and county officials, overwhelmed in dealing with the disaster surrounding them, ignore inmates.
David Fathi, director of the ACLU's national prisons project said the lack of oversight leads to bad outcomes: "Every local jail is usually a world unto itself that operates independently and that often leads to bad outcomes."
Read more .