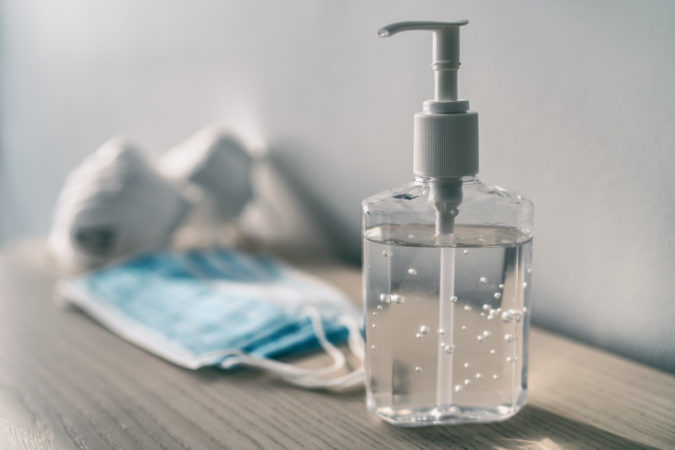 According to a new study, Escambia County is lucky to have so many COVID-19 testing sites because 54% of counties nationwide don't.
Castlight, a health software company, performed an analysis of its comprehensive COVID-19 test site finder to examine states' capacity to collect enough COVID-19 tests to safely re-open the U.S. economy.
CDC and public health experts have stated that re-opening safely would require a substantial increase in COVID-19 testing. At a minimum roughly 1% of the U.S. population (3 million people) need to tested every seven days to get there. According to Castlight, current testing levels are just over half that pace.
Most states would appear to have adequate collection capacity–46 of the 48 contiguous states have enough testing sites to test 1% of their population every seven days. Each testing site can collect a range of between 32 and 480 tests per day depending on the type of testing site (retail clinic, standalone, hospital, or pop-up testing site).
Kentucky and Colorado are the exceptions and do not have enough sites overall to meet the goal.
However, the study found testing sites are distributed unevenly within states. An analysis of county-level data revealed that 38% of metro counties (those with populations at or greater than 50,000) and 68% of rural counties (with populations under 10,000) have no testing sites at all.
According to the study, retail clinics (CVS, Walgreens, etc.) could be the answer to closing this gap in test coverage. Each retail testing location can collect an average of 200 tests per day, potentially helping many counties reach the 1 percent threshold.
For Pensacola MSA to make the goal of 1% of its 502,629 population every seven days, we need to collection specimens from  5,023 Escambia and Santa Rosa counties every week.
According to public records released by Escambia County, area hospitals and Community Health only tested only about 1,300 people over the first seven days of May. Even if the National Guard site at UWF has tested 300 each day in May, we are falling 900-1000 people short of the weekly goal.
What is DOH Escambia and Escambia County's plan?
---
Dashboard-Gate or 'Non-issue'
Yesterday, Florida Democartic Party Chairwoman Terrie Rizzo called for an independent investigation into allegations that the state Department of Health improperly replaced the person in charge of maintaining an online "dashboard" that provides COVID-19 information.
"Allegations that Florida's government may have tried to manipulate or alter data to make reopening (the economy) appear safer is outrageous. These kinds of actions are dangerous and, frankly, should be criminal. An independent investigation into these allegations is needed immediately," Rizzo said in a prepared statement Tuesday. "Meanwhile, city and state officials across Florida should closely monitor the situation to protect the public's health."
Rizzo's statement came after the Florida Today newspaper reported Monday that the dashboard's former point person, Rebekah Jones, sent an email last week to subscribers of the COVID-19 listserv saying that she had been reassigned from her position on May 5 and that she was no longer in charge of maintaining the website that she had created.
Cabinet member Nikki Fried, Florida's Commissioner of Agriculture, has asked Department of Health Secretary Scott Rivkees to appear before the state Cabinet next week to answer questions about Jones' firing.  Read Governor_05192020.
Gov. Ron DeSantis' administration said Tuesday evening that Jones was fired for insubordination, disputing allegations that she was terminated for refusing to manipulate data.
"Rebekah Jones exhibited a repeated course of insubordination during her time with the department, including her unilateral decisions to modify the department's COVID-19 dashboard without input or approval from the epidemiological team or her supervisors," DeSantis spokeswoman Helen Ferre said in a prepared statement. "The blatant disrespect for the professionals who were working around the clock to provide the important information for the COVID-19 website was harmful to the team."
DeSantis called the situation a "non-issue," noting at a Tallahassee news conference Tuesday that the COVID-19 dashboard has been lauded by the Trump administration and researchers.
"Our dashboard has been recognized nationally. Dr. Birx (federal coronavirus official Deborah Birx) has praised it multiple times. It's a heck of a tool. Just as we are very transparent with this, you can drill down and see all of the different data on each individual county. I think that's a very good thing."
source: The News Service of Florida
---
Innerarity Point Park, located next to Hub Stacey's at Point at 3835 Cruzat Way, opened today at sunrise – 12 weeks later than its planned opening to the public.
The opening was originally set to open Friday, March 6 with a ribbon-cutting event, but the contractors' final paperwork and final payment of approximately $400,000 hadn't been processed with the Trust for Public Land.
On the eve of the scheduled opening, County Commissioner Doug Underhill tried to convince his fellow commissioners to take over the park without the county having clear title. He failed to find any support for the motion.
The park will be open daily from sunrise to sunset. A ceremony will be scheduled for a later date.
The $7.4 million park is part of the Natural Resource Damage Assessment's Florida Coastal Access project following the 2010 Deepwater Horizon oil spill. The 3.38-acre park features an ADA-accessible boardwalk as well as a dock for fishing and paddle crafts, covered pavilions, two playgrounds, restrooms and parking.
---
Virtual Fishing for a Cause 
Pensacola Sports announced yesterday its Reel it in America, Fishing for a Cause, will continue under a new format.
The new four-week long Virtual Fishing Tournament will run from May 22 – June 21, giving anglers a chance to catch the biggest fish over two of the most popular fishing weekends – Memorial Day weekend and Father's Day weekend.
"Over the last four weeks, Reel it in America gave anglers of all ages the opportunity to compete," said Ray Palmer, President and CEO of Pensacola Sports. "We are excited to continue that and invite more anglers to join the new four-week long tournament."
Registration for Reel it in America is broken up into five categories:
Group A: Entry fee: $20, photo verification required- Speckled Trout, Redfish, Largemouth Bass, Flounder, Crappie, Panfish (Bream, Bluegill & Sunfish), Fresh Water Catfish, Pompano.
Group B: Entry fee: $30, photo verification required- King Mackerel, Spanish Mackerel, Bluefish, Striped Bass, Permit, Tarpon, Snook, Jack Crevalle.
Group C: Entry fee: $40, photo verification required- Red Snapper, Grouper, Amber Jack, Trigger Fish, Cobia, Bonito, Lionfish.
Group D: Entry fee: $200, photo verification required- Shark, Yellow Fin Tuna, Black Fin Tuna, Mahi Mahi, Wahoo.
Group E: Entry fee: $200, video verification required- Blue Marlin, White Marlin, Striped Marlin, Sailfish, Sword Fish.
An angler can submit as many fish as they wish into their registered fish category for the duration of the tournament. A separate entry fee is required for each fish species submitted. Anglers can register and submit a catch at www.reelitinamerica.com. Anglers may win only once per fish category in which they are registered.
Part of each entry fee will go towards prizes for the top winners. Plus, Pensacola Sports will donate part of each entry fee to Disabled American Veterans, which are helping veterans affected by COVID-19.
All anglers must live along the Gulf Coast (Florida, Alabama, Mississippi, Louisiana, Texas) and the east coast of Florida and follow local, state and federal laws. It is up to the angler to abide by said laws. Anglers must use a rod and reel to catch the fish. Electric reels are allowable.
The tournament will begin 12 a.m. CDT on May 22  and end 11:59 p.m. CDT on June 21. For more information including how to properly submit a catch, visit www.reelitinamerica.com.