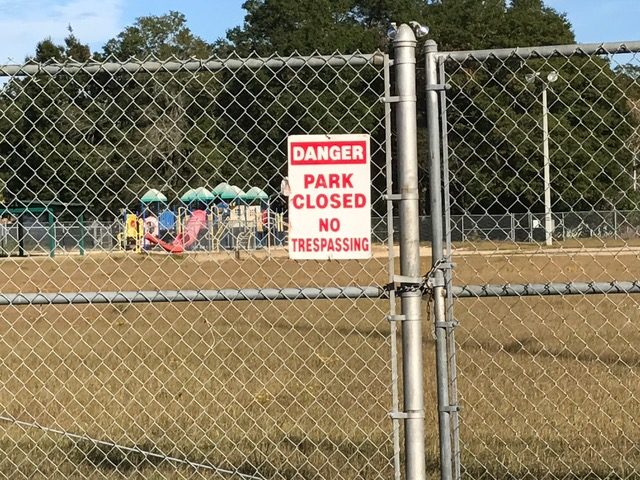 PNJ reporter Jim Little did a good job of reporting on the residents wanting to keep the city's playground in Morris Court open.
Since November 2016, Inweekly has reported on the dispute. Councilwoman Jewel Cannada-Wynn has been determined to close the park and return it to the Area Housing Commission for nearly year. Commissioner Lumon May, who grew up in Morris Court, and residents have pushed back, successfully getting the item pulled from the council's agenda twice.
A few points:
1. The homicide of Ronkia Sonnier occurred around 1:15 a.m. at Morris Court. The fight spilled over from a party held elsewhere. Investigators determined a group of females ranging in age from their late teens to early 20s attended a party in the area of Fairfield Drive and Pace Boulevard, and then went to a park at Morris Court where a fight occurred. Read more.
2. Cannada-Wynn's town hall meeting was sparsely attended. Many of the people wanted to talk about the Tanyard's problems with the Government Street Stormwater Project. The residents who want to keep the park open and have said they weren't aware of the meeting. Read more.
3. The PNJ reporter writes that the mayor's office is deferring all questions on the playground to Canada-Wynn. The councilwoman has said she is working out an solution with Area Housing. Wait, the operations of city parks is a function of the executive branch. The Hayward administration should be weighing in on this problem– gathering facts and meeting with the residents. Mayor Ashton Hayward and his staff are the ones to implement any decisions. Why is the strong mayor not exercising his authority over the playground? Too hot to handle?
Other posts:
Nov 14, 2016 –
Commissioner Lumon May grow up in the
Morris Court
area and worries about the impact of losing the playground. He said that he would like …
Morris Court playground gets reprieve. November 15, 2016. At the end of the Pensacola City Council's Agenda Review, Councilwoman Jewel Cannada-Wynn  …
Apr 5, 2017 –
Pensacola Mayor Ashton Hayward and Councilwoman Jewel Cannada-Wynn want to give the playground in
Morris Court
back to the Area …
Apr 12, 2017 –
Pensacola City Councilwoman Jewel Cannada-Wynn has wanted to permanently close the
Morris Court
playground for months, despite …