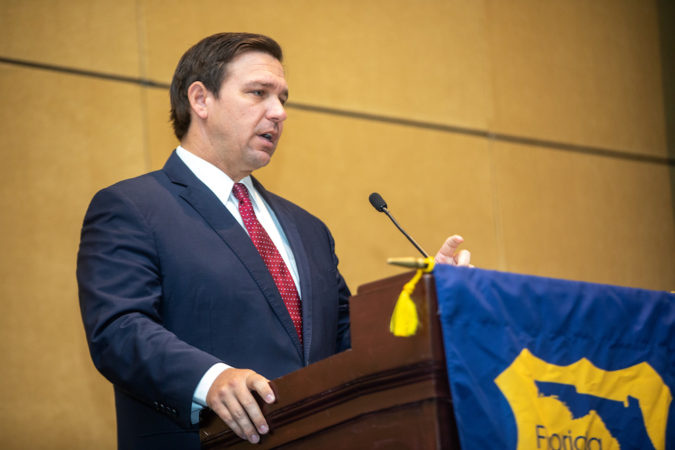 Florida Department of Health moved its dashboard update to 12 p.m. EDT.  Notice high percentage increases over the past two days. Note 2 p.m.: DOH updated report to include total cases–up 72% in two days.
| | | | | |
| --- | --- | --- | --- | --- |
| | 3/25/20 | 3/27/20 | | |
| Report Time | 11 a.m. | 12 p.m. | Increase | |
| Total cases | 1682 | 2900 | 1218 | 72% |
| Florida Residents | 1583 | 2765 | 1182 | 75% |
| Non-Florida | 99 | 135 | 36 | 36% |
| Deaths | 22 | 35 | 13 | 59% |
| | | | | |
| Escambia | 14 | 22 | 8 | 57% |
| Okaloosa | 16 | 23 | 7 | 44% |
| Santa Rosa | 7 | 11 | 4 | 57% |
| | | | | |
| Broward | 355 | 614 | 259 | 73% |
Mayor Grover Robinson gave more accurate information for Escambia County. He said that about two-thirds of the drive-thru tests conducted by Ascension Sacred Heart are still pending. I will post more the mayor's presser later.
The News Journal reports that Navy Federal Credit Union has a positive COVID-19 case —a new employee, not the one misreported she had it two weeks ago.
---
From Ana Ceballos of The News Service of Florida:
QUOTE OF THE WEEK: "If you have a mother just walking down the beach with her daughter, I think that can be done safely. If they (local governments) are willing to put the resources in, I want to give them a chance to do it. That is much different than a (beach partier) doing a Jell-O shot off somebody's stomach. We are not tolerating that. We've told them that the party is over, and I am glad they've finally listened." — Gov. Ron DeSantis, addressing his logic for not closing down all beaches because of the virus.
---
City of Milton
Men In Action Outreach, Inc. of Milton is partnering with Feeding the Gulf Coast, Inc. and the City of Milton to help bring food in a time of need to families of our community.
SATURDAY, MARCH 28, 8 a.m. at the Milton Community Center North Parking Lot, 5629 Byrom St. .  This parking lot is located north of the Community Center. The Driveway is located north of the Milton Skate Park.
There is NO CHARGE to receive food. Food will be given away until all is distributed. Please follow the directional signs and the instructions of volunteers.
***SPECIAL RULES FOR THIS EVENT***
*IF YOU ARE SICK, PLEASE STAY HOME
*THIS IS A DRIVE THROUGH EVENT ONLY. Walk-ups are NOT allowed. Everyone must be in a vehicle.
*Please empty adequate space in your trunk or bed of your truck BEFORE you arrive. Volunteers will not move any items in your vehicles to create space. You may place empty boxes in your vehicle to designate where you would like food to be placed.
*Please limit the number of people you bring in one vehicle.
*Stay in your vehicles at all times
*Keep your vehicle's windows rolled up at all times
*For the safety of our volunteers, we will not open a vehicle door and/or hand items to vehicle occupants.
*Once you have visited each distribution point, or, when your vehicle is full, please exit the site immediately and return home.
---
Gulf Breeze Emergency Management
COVID-19 Update #7 – Wednesday, March 25
 ****** FOR IMMEDIATE RELEASE ******
MESSAGE FROM GULF BREEZE MAYOR CHERRY FITCH
Gulf Breeze Hospital has treated and transported two COVID-19 positive patients with no community spread. Today, Gulf Breeze was additionally notified of its first positive case of a winter visitor who recently traveled out of state.
Last week the City declared a State of Emergency, activating the City's Pandemic Plan in coordination with Santa Rosa County. Friday, I contacted all Gulf Breeze businesses affected by the Governor's Executive Order 20-71, providing restaurants with a written copy upon request. The City's second and expanded emergency declaration came Friday, which provides for enforcement with penalties of the social distancing recommendations of the U.S. Centers for Disease Control and Prevention on public property, including no more than 10 on public property, and distancing individuals to a minimum six feet.
The City has also waived fees for online payments and is sharing its financial hardship application with customers financially impacted by the pandemic, who may need a payment deferral or waiver.
Lastly, we continue to coordinate the City's Interfaith Disaster Response Council (IDR), which is providing a weekly food supply to more than 200 families in the Gulf Breeze area, and also providing deliveries to our vulnerable population. For any residents that need assistance with meals or delivery, please call 850-903-1420 and complete an application over the phone.
We want to thank our Gulf Breeze restaurants for their support. They are providing meals to the Gulf Breeze Hospital staff and our first responders. We are here for our citizens, and will continue to serve you.
If you think you have been in contact with someone who has tested positive for COVID-19, please stay home and self-quarantine for the recommended 14 days. If you have or begin to exhibit symptoms of the virus, call your health care provider immediately.
Please continue to give attention to your physical and mental wellbeing with exercise in and outdoors. Also, maintain CDC recommendations to avoid unnecessary trips and keep social distance.
Sincerely,
Gulf Breeze Mayor Cherry Fitch