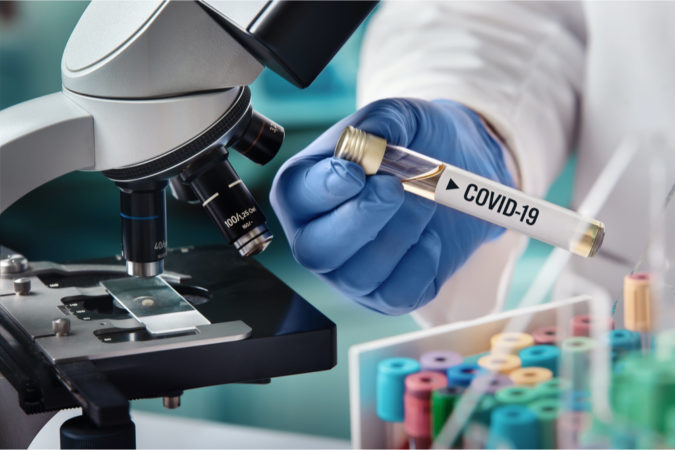 BY THE NUMBERS: CORONAVIRUS — WEDNESDAY EVENING EDITION
By NSF Staff
TALLAHASSEE — The Florida Department of Health on Wednesday evening released updated numbers about the coronavirus in the state. Here are some takeaways:
— 328: Number of confirmed cases in Florida.
— 299: Number of confirmed cases involving Florida residents in the state.
— 29: Number of confirmed cases involving non-residents in Florida.
— 8: Deaths of Florida residents.
— 6: Florida residents diagnosed and isolated outside of the state.
— 80: Number of confirmed cases in Broward County.
— 77: Number of confirmed cases in Miami-Dade County.
— 47.9: Percentage of Florida's cases in Broward and Miami-Dade.
— 32: Number of counties with confirmed cases.
— 8: Number of counties with one confirmed case each (Charlotte, Escambia, Gadsden, Leon, Nassau, Santa Rosa, Sumter and Walton).
— 59: Percentage of cases involving men.
— 1: Member of Congress from Florida who has tested positive for the coronavirus, Republican Mario-Diaz-Balart.
Source: Florida Department of Health (DOH) and Diaz-Balart tweet
---
On Wednesday, in a briefing at the Florida Emergency Operations Center, Governor DeSantis announced the following:
One additional person has died in Clay County.
Earlier this week, the state received news that an ALF resident who passed away had tested positive for COVID-19. The state then learned that two additional residents in the same facility passed away. Those individuals tested negative for COVID-19.
Since February 22, FDOH labs in Miami, Jacksonville, and Tampa have tested more than 1,600 people.
During the week of March 8, private labs began processing COVID-19 tests. Since then, more than 50 private labs have completed more than 2,050 tests.
The Florida National Guard is assembling a drive-through testing facility at Broward Memorial Healthcare System.
---
Yesterday, Inweekly began hearing that the reported presumptive case of COVID-19 at Navy Federal was possibly a hoax – the alleged patient had never been tested by qualified lab.
When asked about the report from Navy Federal at yesterday's presser, Dr. John Lanza, director of the health department in Escambia, read a statement from Florida DOH:
"A lab report from a qualified commercial or hospital laboratory or from the Florida Bureau of Public Health laboratory is required for a person to be declared presumptively positive of COVID-19. The Navy Federal employee believed to presumptively positive for COVID-19 was not previously tested. A public health investigation is currently being conducted to confirm or rule out the COVID-19 virus in this individual."
Stay tuned.
---
Florida House Submit to Testing Before Budget Vote
From The News Service of Florida: House members will submit to health screenings before a floor session Thursday to vote on a proposed $93.2 billion budget for next fiscal year, the House announced Wednesday. Following guidelines from the federal Centers for Disease Control and Prevention to combat the coronavirus, the screenings will consist of a brief series of questions and use of a no-touch thermometer.
Rep. Cary Pigman, an Avon Park Republican who is an emergency-medicine physician, will conduct the tests with three nurse practitioners.
"Any member who shows signs of a fever, other symptoms, or who may have had exposure to the virus will be asked to self-isolate," the House said in a news release. "They will be invited to submit a vote after roll call and comments explaining their vote in writing for inclusion in the House Journal."
Legislative leaders maintain that members must vote in person, based on the state Constitution, to approve the budget. Not all House members are expected to attend, including Rep. Jennifer Sullivan, a Mount Dora Republican who is pregnant, and Rep. Joe Geller, an Aventura Democrat who at age 66 has diabetes and high blood pressure.
As of Wednesday afternoon, the Senate president's office said seven senators will not attend: Democrats Lori Berman of Lantana, Oscar Braynon of Miami Gardens, Janet Cruz of Tampa, Kevin Rader of Delray Beach and Jose Javier Rodriguez of Miami and Republicans Gayle Harrell of Stuart and Anitere Flores of Miami.
The Senate also has taken a series of steps to try to prevent senators and staff members from being exposed to the virus Thursday.
Inweekly prediction:  No-touch thermometers will become standard for all public meetings. County officials Tuesday said they would be standard for people entering the Emergency Operations Center.
---
Test Results & Supplies
On Wednesday,  Baptist and Community Health Northwest Florida (with the help of Ascension Sacred Heart) announced that they're opening drive-thru and standalone COVID-19 testing sites.
Inweekly asked about delays in about testing and the availability of testing currently and in the future.
"As the governor announced the other day, there are about 625,000 tests that have come into the state," said Dr. John Lanza of the local health department. "The testing materials reagents have been sent out to the various organizations who had expressed an interest in doing the testing, including local hospitals, as the speed of the results from the tests will depend on how quickly the local hospitals and other organizations can come online to do the test locally. So, what now may take two, three, four days, may take less than a day, or maybe two days."
We had follow-up questions for the hospital executives: "Can you all give us an idea of where you're sending the samples to, as far as, are you experiencing any delays, project getting delays, and when can you have in-house testing? What's holding you back from doing in-house testing?
Baptist CEO Mark Faulkner said. "We're working with the department of health where we send that sample in the state, and we're also working with commercial labs, specifically LabCorp and Quest. Right now, that follow up and closure with respect to the resulting, is anywhere from three to seven days."
He continued, "We are seeing trending in a positive direction and making that turnaround much more rapid. Simultaneous to all that, we're also rapidly evaluating our internal capabilities."
West Florida Hospital CEO Gay Nord said, "Similar to Baptist Healthcare System, we are using commercial labs, as well as looking at hopefully having testing internally as soon as that testing is available. So not terribly different than our other healthcare systems."
Ascension Sacred Heart Hospital president Dawn Rudolph gave the most detailed answer.
"At Ascension Sacred Heart, we've been relying on our Ascension regional labs for the testing as well as the Department of Health," she said. "We do have equipment in house and we're awaiting materials that have been on back order to get that up and running as soon as possible. We are experiencing the same turnaround delays as everyone else, but we look forward to shortening that curve very soon."
No one mentioned concerns about a potential shortage of N95 mask that Mayor Grover Robinson mentioned at the Tuesday presser. The CDC has issued a tip sheet for extending the use of the masks that has come under criticism.
Bloomberg reports on what other areas are doing about the shortage of masks.
CNN reports medical officials at several state health departments, hospitals and labs have said they need more testing swabs, reagents, pipettes and other material needed to conduct the Covid-19 tests.
The county's Wednesday press conference was cut short before Inweekly could ask about the supply of critical care beds and ventilators.