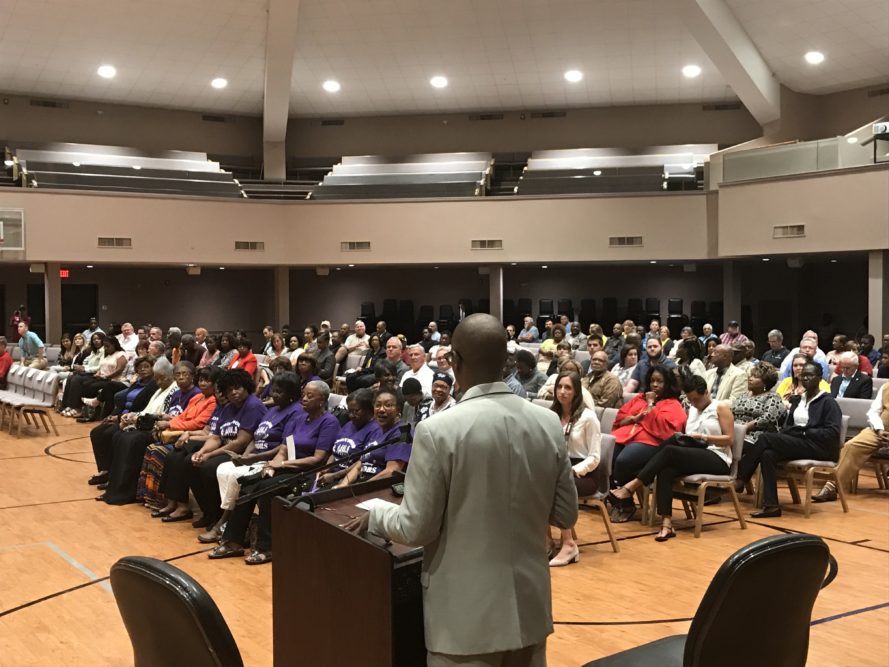 Nearly 300 citizens last night came to the District 3 town hall held by Escambia County Commissioner Lumon May at the Brownsville Community Center. The issues covered included mass transit, beach ownership, crime in neighborhoods, stormwater, Bruce Beach and education.
Commissioner May had pulled together a panel of elected officials who addressed the crowd:
City of Pensacola District 7 Council Member Jewel Cannada-Wynn
City of Pensacola Council President and District 5 Member Gerald Wingate
Assistant County Administrator Amy Lovoy
Escambia School Board District 3 Representative Lee Hansen
Emerald Coast Utilities Authority District 3 Representative Elvin McCorvey
Escambia County Sheriff's Office Chief Deputy Chip Simmons
Escambia County First Judicial Circuit Court Judge Thomas V. Dannheisser
Escambia County Judge Joyce H. Williams
Escambia County School District Superintendent Malcolm Thomas
Escambia County Supervisor of Elections David Stafford
Escambia County Tax Collector Scott Lunsford
State Attorney Bill Eddins
Aide to State Sen. Doug Broxson, Kevin Brown
Criminal justice system came up several times. State Attorney Eddins talked about how his office has modified its approach to juvenile offenders. He said that few years ago when the county experienced a rise on gang-related violence, his office had been aggressive in prosecuting the offenders. However, he believes today's climate is different and his staff has listened to the community. He talked about the success of the civil citation program.
Judge Dannheisser asked the citizens to come watch trials and see firsthand how the courts work. Chief Deputy Simmons talked about how citizens can report suspect crimes being committed in their neighborhoods.
After the meeting, Commissioner May said he was very pleased with the meeting, especially having the state attorney and the judges talk about issues and answer questions. He said he plans on holding another town hall soon that will focus on criminal justice issues.