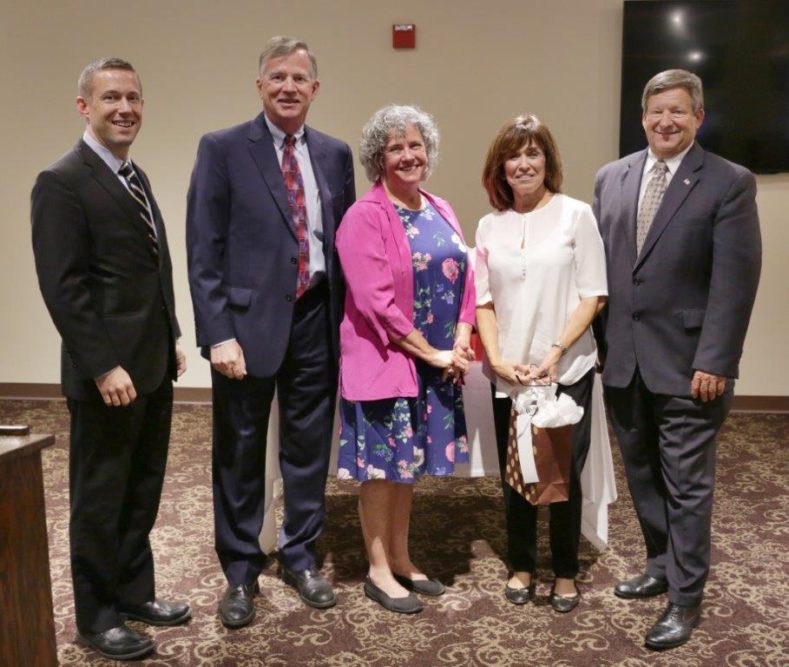 The Escambia County Public Schools Foundation held its annual meeting recently to elect new officers and to recognize outstanding community partners.
"The mission of the Escambia County Public Schools Foundation would not be possible without strong community partners," said outgoing Foundation Chair Thomas Greek from Navy Federal Credit Union. "Businesses, benefactors, and foundations all contribute to the success of our organization – and in turn – to the success of our schools."
Outstanding Partners of the Year recognized for their on-going support of the Foundation were the Studer Foundation, represented by Rishy Studer and Theresa Wagonner, as well as Dr. Robert Hoyt and Dr. Ann Yoshihashi.
Randy Ramos, president of Global Business Solutions, Inc., was recognized as the Foundation's Board Member of the Year for his outstanding work in fundraising and establishing the annual Cyberthon Challenge. The following retiring Foundation Board Members were recognized for their years of service: David Deliman, 4 years; Kim LeDuff, 3 years; and Stephanie White, 3 years.
"Thanks to the strong leadership of Thomas Greek, the Escambia County Public Schools Foundation was able to contribute more than $130,000 into Escambia County classrooms this past year," said in-coming Chair Kristie Kelley. "Of that, $91,000 went directly to classroom grants – unique projects designed by teachers to make a meaningful impact in the areas of STEM and Literacy."
Escambia County Public Schools Foundation is a 501(c)3 non-profit direct support organization of the Escambia County School District dedicated to investing in our children's future through scholarships, classroom Grants for Excellence, and recognition of outstanding Escambia County teachers and student achievement.