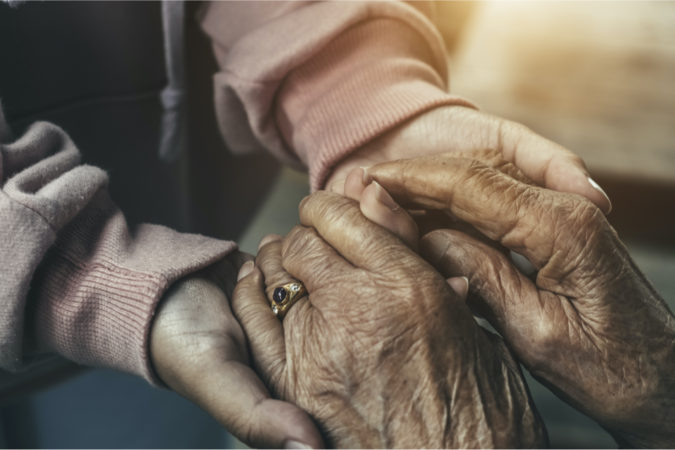 According to the Monday evening report from the Florida Department of Health, Escambia County now has 39 positive COVID-19 cases in local long-term care facilities – up a 11 cases in 24 hours.  A week ago, the county only had eight.
Today's SitRep reported:
­Work is ongoing with all Escambia County Long Term Care (LTC) Outreach facility's contacts to ensure that social distancing, and PPE requirements/recommendations are being followed. ​
­Denise Week's Team will be contacting all LTCs daily ­ reports will be forwarded to ESF­8. ESF­8 staff use the spreadsheet to enter in ReadyOps Long Term Care Facility Outreach Questionnaires. ESF­8 and Outreach staff will forward Epi information emails to Epi Staff and Beate Bolton.​
­EMS will be making site visits to ensure they are following CDC recommended protocol.​
Inweekly has requested more information from both the DOH-Escambia and the Florida Surgeon General, using the email addresses supplied by the county. We will post their replies.
Escambia County has had 17 new cases in the past 24 hours – the second highest day in April. The death total is holding at three.
As of Sunday, April 12, 5,674 specimens have been collected in Escambia – about a third are pending.  Of the 3,789 of the test results received, 235 have come back positive – 6.2%, according to the spreadsheet supplied by the EOC.  The state average is 11%.
The EOC is reporting 18 hospitalizations.
Florida cases have topped 21K – the new cases are growing at an average rate of 1,098 per day.  The state had 38 more deaths, total 499 – daily average 32.
| | | | | |
| --- | --- | --- | --- | --- |
| | 4/12/20 | 4/13/20 | | |
| | 6 p.m. | 6 p.m. | Increase | |
| Total Cases | 19895 | 21019 | 1124 | 5.65% |
| Florida Residents | 19337 | 20394 | 1057 | 5.47% |
| Non-Fla. | 558 | 625 | 67 | 12.01% |
| Deaths | 461 | 499 | 38 | 8.24% |
| | | | | |
| Escambia | 224 | 241 | 17 | 7.59% |
| Okaloosa | 101 | 103 | 2 | 1.98% |
| Santa Rosa | 109 | 113 | 4 | 3.67% |
| | | | | |
| Broward | 2945 | 3177 | 232 | 7.88% |
---
Top 20 Counties
| | | | | |
| --- | --- | --- | --- | --- |
| Rank | County | Population | Cases | Per 30K |
| 1 | Dade |     2,715,516 | 7459 |           82.40 |
| 2 | Broward |        924,229 | 3177 |         103.12 |
| 3 | Palm Beach |     1,446,277 | 1704 |           35.35 |
| 4 | Orange |     1,321,194 | 1024 |           23.25 |
| 5 | Hillsborough |     1,378,883 | 813 |           17.69 |
| 6 | Duval |        924,229 | 691 |           22.43 |
| 7 | Lee |        718,679 | 642 |           26.80 |
| 8 | Pinellas |        957,875 | 479 |           15.00 |
| 9 | Collier |        363,922 | 376 |           31.00 |
| 10 | Osceola |        338,619 | 333 |           29.50 |
| 11 | Polk |        668,671 | 270 |           12.11 |
| 12 | Seminole |        455,086 | 268 |           17.67 |
| 13 | Manatee |        373,853 | 252 |           20.22 |
| 14 | Escambia |        311,522 | 241 |           23.21 |
| 15 | Sarasota |        412,144 | 230 |           16.74 |
| 16 | Volusia |        527,634 | 216 |           12.28 |
| 17 | Alachua |        263,148 | 187 |           21.32 |
| 18 | St. Johns |        235,503 | 176 |           22.42 |
| 19 | Pasco |        510,593 | 169 |             9.93 |
| 20 | Lake |        335,362 | 162 |           14.49 |
---
The Charts
Underhill – Totals cases in Escambia County by day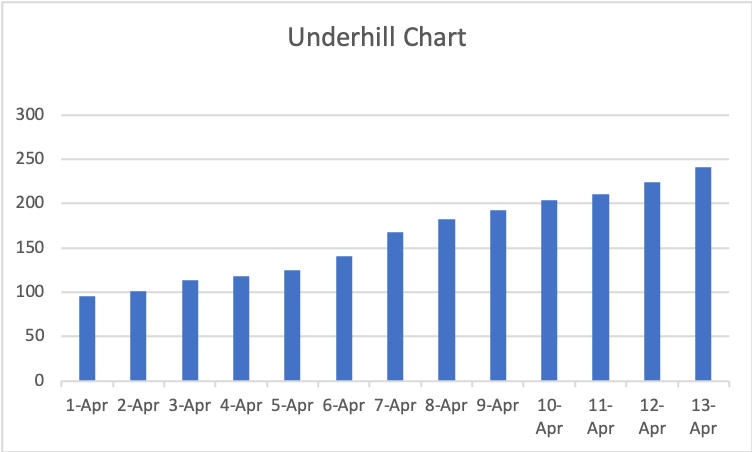 Overhill – New cases of Fla. Resident in Escambia by day