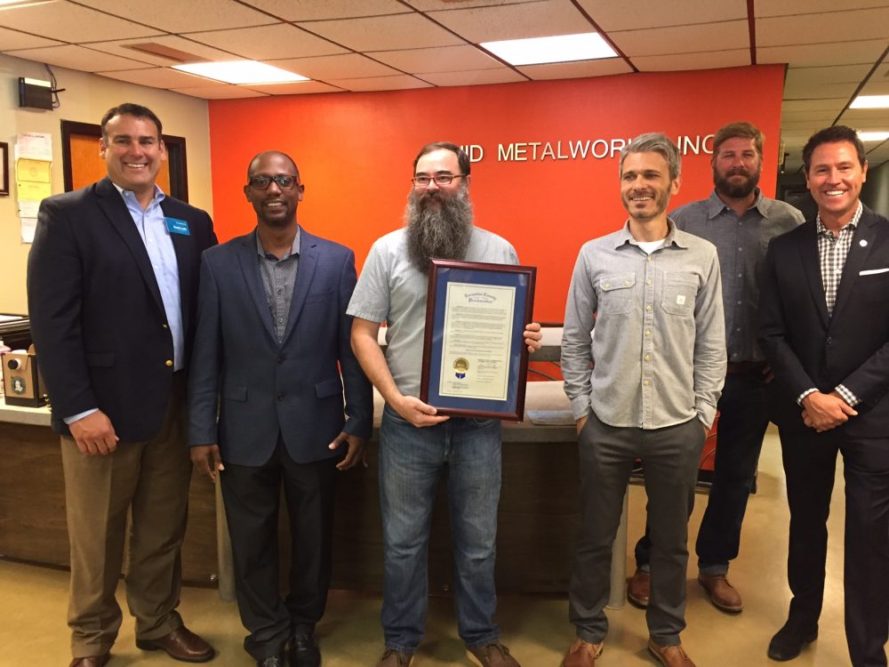 By Duwayne Escobedo
Fluid Metalworks was recognized by FloridaWest, Escambia County's economic development arm, for creating high-paying manufacturing jobs and for providing job training in Pensacola.
The company, which started in April 2010, is a full service architectural metal design and fabrication company with projects nationwide. Fluid Metal Works now employs 25 people.
Recently, it finished work at the Grammy Museum in Cleveland, Miss. and Vaught-Hemingway Stadium at the University of Mississippi. The company has also done planter railings that help beautify the flowerbeds in downtown Pensacola and elaborate metalworks for homes and everything in between.
One of the top priorities of Escambia County Commissioner Lumon May has been job creation. He read a proclamation on behalf of the commission and presented it to Fluid Metalworks. May is excited that the company operates on South A Street in District 3, which he represents.
"Our community needs to be gainfully employed in jobs where you don't have to have a Ph.D. or law degree," said May at the Monday morning event. "Fluid Metalworks offers that. Whether they're working at Southern Miss or on a rod iron gate, they give great service. They offer hope for a better future for our children."
Jon Waldrop, who founded the company along with Vladimir Asparuhov and Brandon Godwin noted the company had just started when the BP Oil Spill also hit. It caused a depressed economy along the Gulf Coast.
"We went after projects really hard," Waldrop recalled. "We've been fortunate. We're having a great time and continuing to grow and spread our wings."
FloridaWest pointed out that manufacturing is a key driver in the Northwest Florida region. It provides about 16,523 jobs that generated more than $1.12 million in total wages. Average wages exceed $67,000 a year.