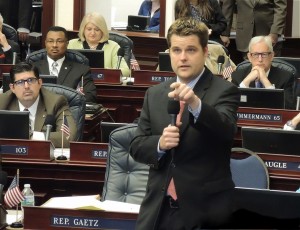 From the News Service of Florida:
GAINER TOPS $118K FOR PANHANDLE SENATE RACE
In what could turn into one of the state's most-expensive campaigns in 2016, Bay County Commissioner George Gainer collected $118,590 in October for his bid to win a seat in the Florida Senate, according to a newly filed finance report.
Gainer, a Republican who is an auto dealer, also loaned $500,000 to his campaign in September. Overall, he had received $123,090 in contributions as of Oct. 31, while spending $50,314. Gainer is running in Senate District 1 against state Rep. Matt Gaetz, R-Fort Walton Beach.
Gaetz, who is attempting to succeed his father, Sen. Don Gaetz, in the seat, had raised a total of $693,980 as of Sept. 30, while spending a total of $188,609. Matt Gaetz's October totals had not been posted to the state Division of Elections website as of Monday morning. Candidates and political committees face a Tuesday deadline for filing updated finance reports.
Senate District 1 includes Bay, Holmes, Jackson, Walton, Washington and part of Okaloosa counties, though the boundaries could change because of an ongoing legal battle about Senate redistricting.
Among other early filers, Sen. Gwen Margolis, D-Miami, put $50,000 of her own money into a re-election bid in Miami-Dade County's Senate District 35, according to her report. Margolis had raised an overall total of $82,725 as of Oct. 31, while spending $10,019.