The Memphis Mayor's office announced this morning that Memphis Mayor Jim Strickland has selected Jarl T. (J.T.) Young to serve as the new President and CEO of Memphis Light, Gas, and Water.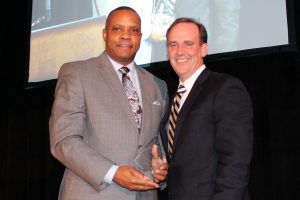 "J.T.'s knowledge and experience in the industry, along with his record of creating a culture around excellent customer service, grabbed my attention," Mayor Strickland said in the release. "He's highly qualified and I know he'll fit in well here and lead MLGW into the future."
Young currently serves as the general manager of customer service and marketing for Gulf Power in Pensacola, Fla. He is a graduate of the Harvard Business School General Management Program and has a Master of Business Administration degree from the University of West Florida and an electrical engineering degree from the University of Florida. In 2017, the Greater Pensacola Chamber named Young Community Leader of the Year at the Pensacola Area Commitment to Excellence (PACE) awards. Most recently, Young was honored with Pensacola's 2018 Martin Luther King Jr. "Living the Dream" award.
"MLGW and the community of Memphis have a rich history and a bright future," said Young. "I am blessed and eager to serve with the great team at MLGW as we move the company forward in delivering exceptional customer value."
Mayor Strickland selected Young at the conclusion of a national search conducted by Preng and Associates. Young's appointment is pending approval from the Memphis City Council.
If confirmed, Young will begin his tenure as CEO of MLGW on March 19. Young would replace current CEO Jerry Collins, whose retirement will be effective Jan. 31.