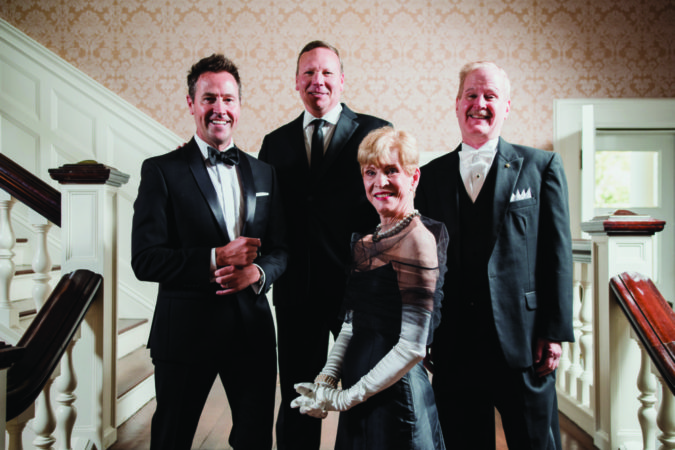 PENSACOLA, Fla. – Council on Aging of West Florida announces the ninth annual Rat Pack Reunion on Oct. 25, 5:30 pm at Skopelos at New World. Every year, a committee selects four outstanding business and philanthropic leaders to honor, while their friends gently roast them for an evening of fun, frivolity and fundraising. The black-tie fundraiser allows the senior services agency to increase resources and awareness for its various programs, including Meals on Wheels, adult day care, companionship, respite care and more. This year, the honorees are:
Ashton Hayward
His eight years as mayor shaped Pensacola into what it is today – a vibrant hub of ideas and opportunity. After a few years in New York City working for AT&T, Ashton moved back home to open his own real estate company before taking public office as the first "Strong Mayor" in 2011. His current work at the Andrews Research and Education Foundation represents the organization on a global scale.
Michael Murdoch
Michael Murdoch brought the technology industry to Northwest Florida in a new way through his creation of AppRiver. He attended the University of Georgia, and always had a passion for the technology industry, creating applications long before AppRiver. Within a few years of founding his signature company, it was worth millions. Murdoch has since sold AppRiver and is enjoying seeing the world with his wife, Addie.
Michael Riesberg
Dr. Riesberg is an Ear, Nose, and Throat doctor in Pensacola. After retiring as a Navy Captain, he opened the Riesberg Institute to provide ENT services in Pensacola. Not satisfied with just practicing medicine, Dr. Riesberg works to improve his field by inventing various medical devices. A patron of the arts, he is heavily involved in the local opera community. Known as the "Opera Doc," he is the only doctor that many professional singers trust to operate on their throats. It is difficult to find a local cause that he has not been heavily involved in.
Brenda Vigodsky
Brenda Vigodsky worked closely with her late husband, Fred, to build the business community in Pensacola for decades. Their various businesses ranged from clothing stores to restaurants to a television broadcast station. Known for her class and tact, Brenda has been involved in many nonprofits in Pensacola. Today her close involvement with the Pace Center for Girls has changed the lives of the young girls involved. Brenda can also be found cheering for the Florida Gators and spending time with her children and grandchildren.
---
Now in its ninth year, the Rat Pack Reunion recreates the glamorous old Vegas styles and atmosphere of yesteryear's Rat Pack by honoring Pensacola's own celebrities with a gentle roast, dancing, dinner, free cocktails and more. To date, the event has raised more than a million dollars for Council on Aging of West Florida and the 2,200 seniors in Escambia and Santa Rosa counties the organization serves. This year's theme, "Strangers in the Night," promises to have a few surprises as everyone is encouraged to display a more mysterious demeanor. World-famous Frank Sinatra tribute artist Tom Tiratto will serenade the evening as always.
Sponsors for this event include Andrews Institute/Baptist Health Care, Ashton Hayward, Ballinger Publishing, BBVA, Bob Tyler Toyota, Brenda Vigodsky, Carlette Howell, Cat Country 98.7, Charlie & Fran Switzer, Covenant Care, Edward Jones – John Peacock, Emmanuel, Sheppard & Condon Attorneys at Law, Escambia County Sherriff's Office, Fabadashery, Flack & Kathleen Logan, Gulf Power Company, Jewelers Trade Shop, Jim & Ann Neal, John B. Clark, Larry & Lynn Morris, Levin Papantonio Personal Injury Lawyers, Levin Rinke Realty, Lois Lepp, McMahon-Hadder Insurance, Michael Murdoch, Pete Moore Automotive, Ray & Valerie Russenberger, Riesberg Institute, Sammy's Management, Sandy Sansing Chevrolet, Susan and Brian Finger, Synovus Bank, The AKWO Justice Foundation Inc., Tom Pace Jr., Skopelos at New World, Valley Services, Vinyl Music Hall, Vitas Healthcare, and WEAR-ABC3.
To purchase tickets, sponsor Rat Pack Reunion, or for information on the event, visit ratpackreunion.com.