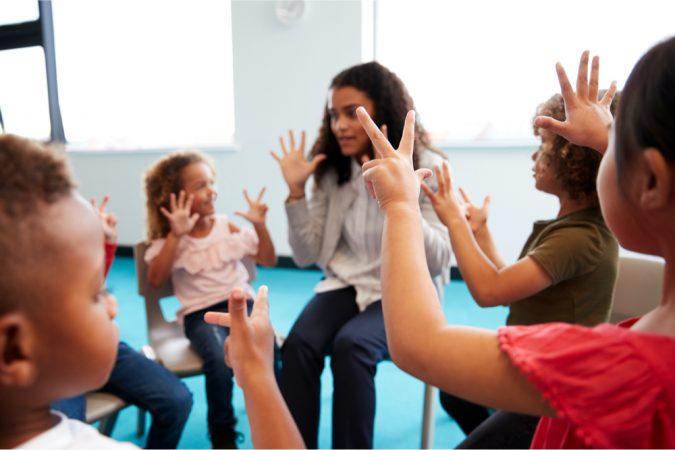 Escambia County's Kindergarten Readiness improved by one percentage point over the 2019-20 school year, 47% to 48%, while Santa Rosa jumped 21 points from 57% to 78%, according to the Florida Department of Education. Statewide, the average readiness rate improved four points, from 53% to 57%.
According to Achieve Escambia, kindergarten readiness matter because children who start behind, stay behind.
Escambia's percentage is below Achieve Escambia's goal for 2020—60%. The nonprofit has set a "bold goal" of 75% by 2025.  Achieve Escambia Executive Director Kim Krupa said, "This aligns with the Florida Chamber Foundation's Business Alliance for Early Learning strategic plan, which calls for 100% – every child in Florida – ready for kindergarten by 2030."
She explained the bold goal was set to "inspire the community to achieve bold results." Krupa added, "Over the past few years, our Escambia County bold goal has helped our partners establish a clear focus and commitment to sticking with it over the long term."
One of the reasons Achieve Escambia supported the Escambia Children's Trust ballot referendum was recognition the organization and its partners could make incremental changes without "seismic interventions." She said, "We look forward to the ECT funding innovations that expand the exemplary work that is being done in pockets, and to fund the missing pieces of the local birth to 5 system, to ultimately raise kindergarten readiness overall."
Currently to improve kindergarten readiness, Achieve has supported Parent University–a parent education program that may be funded by the Escambia Children's Trust – and funding the 3-year-old preschool at C. A. Weis Community Partnership School. Krupa said, "The first 3-year-old preschool cohort is now in kindergarten, and on the most recent assessment 89% of them were ready for school, compared to 40% of their peers who had only attended one year of preschool, VPK."
She added,"This outcome holds such promise and shows that when we align resources and invest in high-quality early childhood experiences, we really can achieve these bold goals. Obviously Achieve Escambia cannot control kindergarten readiness results directly as we aren't a direct service organization, but as a collaborative group, we view our bold goals as goals for the entire community – with all partners working toward this bold goal."
Seven of the county's 35 elementary schools have rates above 60%: Cordova Park, Sherwood, Byrneville (charter school), Suter and Pensacola Beach (charter school). Ten schools have rates below 40%: Weis, Semmes, Longleaf, West Pensacola, Lincoln Park, Navy Point, Holm, Warrington, Ensley and Oakcrest.
The Studer Community Institute's Shannon Nickinson noted in her analysis of the data, "In 2020, 18 Escambia schools had readiness rates less than 50%; in 2019, it was 19 schools. All but three of those 18 schools made improvements in their readiness rates."
Krupa pointed out the negative impact the COVID-19 pandemic had on kindergarten readiness. She said, "Achieve and our partners are gravely concerned about these results. "This year, as more students opted out of brick-and-mortar schools, the testing cohort dropped dramatically."
She continued, "Just 2,247 took the assessment in 2020, down from 2,908 in 2017. Where have the children gone? There is so much variance in the data across the state, so many unexplained ups and downs and no consistent storyline to explain them."
| | |
| --- | --- |
| CORDOVA PARK | 69% |
| SHERWOOD | 67% |
| BYRNEVILLE Charter | 64% |
| A. K. SUTER | 63% |
| PENSACOLA BEACH Charter | 63% |
| N. B. COOK | 62% |
| SCENIC HEIGHTS | 62% |
| JIM ALLEN | 59% |
| PINE MEADOW | 58% |
| BEULAH | 57% |
| HELLEN CARO | 55% |
| R. C. LIPSCOMB | 53% |
| MYRTLE GROVE | 52% |
| PLEASANT GROVE | 51% |
| L. D. MCARTHUR | 50% |
| BLUE ANGELS | 50% |
| BRATT | 48% |
| KINGSFIELD | 47% |
| GLOBAL LEARNING ACADEMY | 47% |
| FERRY PASS | 46% |
| JACKIE HARRIS PREP Charter | 46% |
| BELLVIEW | 45% |
| MOLINO PARK | 44% |
| MONTCLAIR | 41% |
| BRENTWOOD | 40% |
| C. A. WEIS | 36% |
| O. J. SEMMES | 36% |
| LONGLEAF | 35% |
| WEST PENSACOLA | 34% |
| LINCOLN PARK | 32% |
| NAVY POINT | 30% |
| REINHARDT HOLM | 29% |
| WARRINGTON | 28% |
| ENSLEY | 22% |
| OAKCREST | 21% |