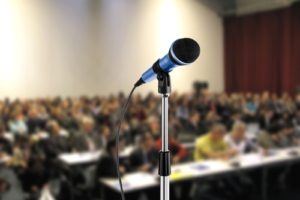 The Northwest Chapter of the NAIOP, the commercial real estate development association, will hold its Annual Economic Update 11:30 a.m.-1:30 p.m. May 13 at the Corrine Jones Community Center on Sanders Beach.
The speakers will be Mark D. Waterhouse, CEcD and Rick Harper, Ph.D. They address these questions, according to the flyer sent Inweekly:
What does the economic forecast look like for Pensacola and surrounding areas?
What makes Pensacola an attractive place to do business?
How can we position Pensacola to be attractive to both National and International businesses?
NAOIP requests:
Register today to attend the Annual Economic Update to learn the answers to these and many more important questions.

If you do business in Pensacola, this is an event you don't want to miss.
Title Sponsor – $1,000 (only 1 available)
Table Sponsor – $375
Ad Sponsor – $75
Individual Ticket – $50

Register today at www.naiopnwfl.com

Sponsorships are limited. If you are interested in becoming a sponsor, register now or contact admin@naiopnwfl.com.
Meet the Speakers
Rick Harper, Ph.D.
Rick Harper's career as an economist began in 1979 at the Research Triangle Institute in North Carolina. He earned his Ph.D. in Economics from Duke University in 1989 and joined the UWF faculty that same year.
Rick directs UWF's new Office of Economic Development and Engagement (OEDE), which oversees the Florida Small Business Development Center Network and also the Haas Center for Business Research and Development. For the last two years he has been on loan to Florida Senate President Don Gaetz to serve as Senior Policy Advisor on Economic Affairs. He worked with staff and legislators primarily in the areas of Commerce, Tourism, Community Affairs, Military and Space, Economic Development, and Gaming.
Mark D. Waterhouse, CEcD/FM/HLM
Mark D. Waterhouse, CEcD has been active in the field of economic development since 1972. He is President and one of the founders of Garnet Consulting Services, Inc., a firm that specializes in market and feasibility studies, business park master planning, community and organizational evaluation, strategic planning, site searches, and other economic development services for communities, companies and property owners or buyers.
Mark is a graduate of Dartmouth College. He is also a graduate of the University of Oklahoma's Economic Development Institute and the Minority Business and Economic Development Internship Program. He holds a Bachelor of Laws degree and has been a Certified Economic Developer® since 1977. He is a qualified Myers-Briggs (MBTI®) practitioner, specializing in team-building and group facilitation. Mark is a member of the faculty of the Univeristy of Oklahoma's Economic Development Institute. He is a frequent lecturer or speaker at other economic development programs nationally, and is the author of many articles about economic development.