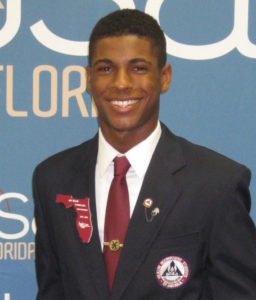 Pensacola State College sophomore Jay Tellis is the newly selected state president of Health Occupations Students of America. With more than 13,600 members in secondary and post-secondary/collegiate chapters, Florida HOSA is the second largest state association in the nation.
As president, Tellis hopes to open a more accessible connection between state officers and members.
"Our job as state officers is to serve the members, so having a more efficient and effective way for members to contact us about questions or concerns would be ideal," Tellis says.
Working toward a degree in biomedical engineering, Tellis has been active in HOSA since his freshman year at West Florida High School.
"I like PSC's strong presence in HOSA Region 1," Tellis says. "Our fall and spring regional conferences are held at PSC and are some of the best put together regional conferences in Florida, thanks to our advisor Jennifer Ponson."
Tellis also is vice president of PSC's Engineering Club and a member of Phi Theta Kappa International Honor Society.